Field guide to Occupy movement offshoots and partners
Diagramming the day's glut of anti-corporate outrage.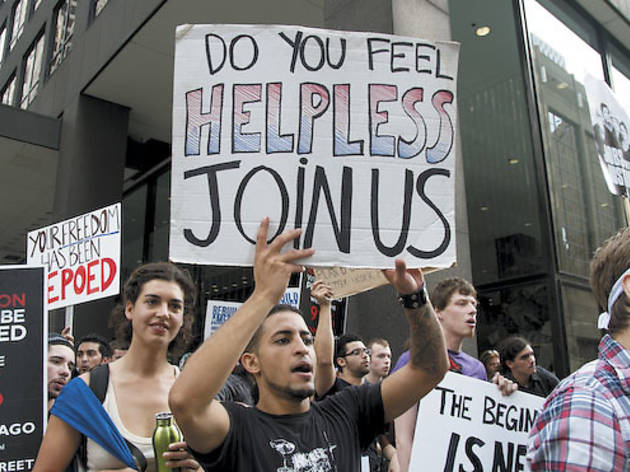 Are we the only ones (dare we say, the 1 percent) feeling confused by the 99 percent? In early October, for instance, Stand Up! Chicago hosted Take Back Chicago with help from Occupy Chicago. Come again? For sign holders on street corners, the surging Occupy movement has been a chance for their condemnations of bailout bonuses to reverberate from Wall Street to Washington, D.C., to as far away as Peshawar, Pakistan. But with so many Occupy splinters forming and other protest groups glomming on "in solidarity" over the past couple of months, it can be difficult to keep up. Here's your field guide to the demonstrators du jour.
Answer Chicago
It's no surprise to see this anti-war and anti-racism group happily surfing the Occupy wave. A prominent Answer member, the Party for Socialism and Liberation, is hosting a Midwest Socialism Conference at UIC Saturday 5 and Sunday 6.
Occupy Chicago Education
The "education committee" of the local Occupy sect holds teach-ins at the plaza next to the Chicago Board of Trade to school the dreadlocked and granola-munching masses. Its syllabus includes such exciting upcoming discussions as "Gendered Capitalism" (Thursday 3 at 3pm), "Work, Profit and Exploitation" (Friday 4 at 4:30pm) and "Public Housing and the Plan for Transformation: Ideology in Chicago and in the Nation" (Saturday 5 at 3pm).
Occupy Colleges
America's financial problems are not just limited to Wall Street, this Occupy offshoot contends. The nation's campuses are troubled, too: College grads, most notably, are saddled with huge amounts of student-loan debts without a viable chance to get a job and start paying them back.
Occupy the Hood Chicago
Occupy Chicago with a hip-hop soundtrack. At least according to a YouTube video introducing the group, whose focus is galvanizing minorities to join the Occupy movement. It's the brainchild of Malik Rhasaan, a construction worker from South Jamaica, Queens, and his friend Ife Johari Uhuru, a Detroit activist, who noticed a large percentage of the 99 percent were white twentysomethings.
Stand Up! Chicago
This give-back-our-jobs flock is composed largely of humorless members of the Chicago Teachers Union and other labor groups. But we'll give them props for the 12-foot paper-and-cloth "corporate welfare king puppets" (effigies of old white men in crowns) that they tote to each march.
Take Back Chicago
During this mass mobilization in the second week of October, Stand Up! Chicago was joined by Occupy Chicago to, among other things, stage a die-in inside a downtown Bank of America branch in protest of the company's plans to lay off 30,000 workers. Literature highlighted the disparity between executive salaries and average worker pay: "Walgreens CEO Greg Wasson made $8 million last year.… A single parent working at Walgreens qualifies for Medicaid and food stamps." Once Chicagoans answer the call to stand up, occupy their 'hood and take back the city, will the various groups share?