Financial District's Icarus | What's up with that?
Is artist Roger Brown's 120 North LaSalle Street mosaic a warning?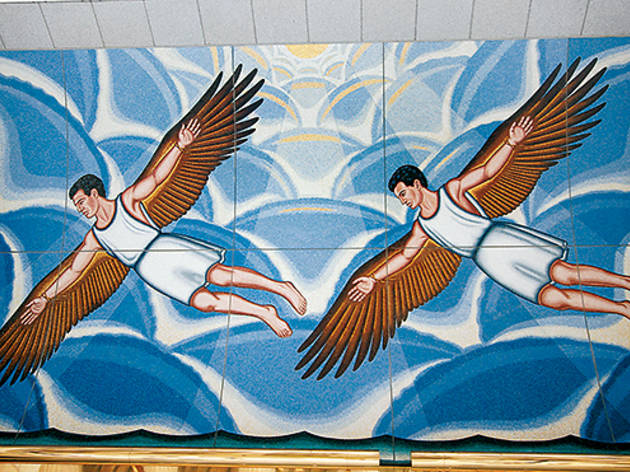 Above the entryway to the 120 North LaSalle Street building, there's a mosaic depicting the flight of Icarus. Given that the fable's moral was not to fly too close to the sun, it's ironic to see this mural in the Financial District—especially considering the economic collapse. Is the piece supposed to be a warning to all the Board of Trade types and bankers?—A., Rogers Park
Artist Roger Brown (1941–97) completed Arts and Sciences of the Ancient World: The Flight of Daedalus and Icarus, which was dedicated in 1991, long before the recession. However, one of the mosaic mural's "several meanings" indeed "warns against the danger and futility of hubris," Lisa Stone, curator of SAIC's Roger Brown Study Collection, says via e-mail.
Brown, one of the best-known Chicago Imagists, "wanted to do a timeless subject, not something temporal or contemporary," Stone says. After his patrons—the Ahmanson Commercial Development Company and building architect Murphy/Jahn—rejected proposals that depicted a raging Minotaur, or Icarus falling into the sea, Brown decided to make the mural "a bit more 'uplifting,' " the curator explains. He based his final design on mythologist Joseph Campbell's writings about Icarus and his father, Daedalus, emphasizing the roles of architecture and flight in their story.
Noting that Brown's figures "appear to be very handsome contemporaries rather than father and son," Stone suggests they could represent the artist and his lover, architect George Veronda, who died of lung cancer in 1984. But at the time, she adds, Chicagoans speculated that Brown had in mind another famous father and son: Mayors Richard J. and Richard M. Daley.