Find your holiday hookup
These six events are solid bets to find fellow singles this season.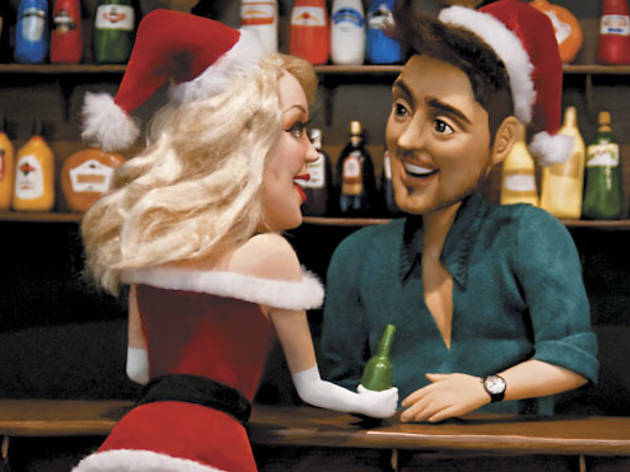 Contrary to what greeting-card companies and holiday movies might lead you to believe, couples don't have a monopoly on the holidays. In fact, the season is the best time to be single. An uptick in breakups (because who wants to get a gift for someone they don't really like?) and an excess of mulled wine make for the best possible hookup scenario. Here are six perfect spots to find singles during the holidays—plus the pickup lines to jingle their bells.
Bad Santa Bar Crawl
The event Santa Claus is coming to Chicago—and he's drunk. Each year, this bar crawl draws the people who have been dying to dress up since Halloween, and they hop among seven bars ready to offer drink specials to anyone with a ticket and, preferably, a patent-leather belt.
The singles Fratty guys in Santa suits and Mrs. Clauses wearing far too little fur-lined clothing to stay warm at the North Pole
The pickup line "I checked my list twice, and it looks like you've been very naughty." Locations mostly in Lincoln Park, starting at Mother's Too (14 W Division St). Sat 15, noon–9pm. $10 plus cost of drinks.
Mimi Imfurst's A Very Mary Christmas
The event Drag queen comedian and RuPaul's Drag Race All Stars participant Mimi Imfurst plays the Virgin Mary, setting the record straight on the story of the birth of that sweet baby Jesus. Between the stiff drinks and the raunchy laughs, everyone will be in the right spirits for rubbing shoulders.
The singles Impeccably manicured twinks and women with their guard down
The pickup line "Your manger, or mine?" Hydrate (3458 N Halsted St, 773-975-9244). Thu 13 at 9:30pm, VIP meet-and-greet 8–9pm. $10, VIP $25.
Bucktownukah
The event Light the menorah at the Chabad of Bucktown/Wicker Park's annual Hanukkah party, where an open bar and sushi accompany the traditional jelly doughnuts and potato latkes.
The singles Hipster Jews, Christian women who love hipster Jews
The pickup line "Maybe it's the Manischewitz talking, but you've got some hot latkes." Nick's Beer Garden (1516 N Milwaukee Ave, 773-772-3770). Sat 15 at 9pm. $22, advance $18.
McCormick Tribune Ice Rink
The event More than 100,000 people don their skates each winter for this holiday classic. And once you pick through the couples, families and old-timers, there are still more singles than you can possibly hit on in one outing. Come in the evening, and come often.
The singles Hopeless romantics, single dads and girls'-night gaggles
The pickup line "I'm no Johnny Weir, but I can do a pretty good spread eagle." Millennium Park (11 N Michigan Ave, 312-742-5472). Daily through Mar 10, weather permitting; hours vary. Free admission, skate rental $10.
Holy Name Cathedral Christmas Eve Mass
The event The seat of the Archdiocese of Chicago, this iconic cathedral draws devout believers and guilt-ridden holiday Christians alike. After an extra-long Mass, we bet some singles will be ready to do something a little more exciting on their knees. (Just look up ass mass on Urban Dictionary.)
The singles That nice Christian your mom wants you to date
The pickup line "Pray here often?" 732 N State St (312-787-9113). Dec 24 at 4pm, 6pm, midnight. Free.
New Year's Eve Celebration
The event With Playboy Bunnies in the house and a live performance by Mike Posner, this party is a sure bet to find a midnight kiss and then some. Since it's at the Hilton Chicago, hotel rooms are available for partygoers at a reduced rate.
The singles Three half-naked Playmates and 4,000 tipsy partygoers who either want to be them or want to get with them
The pickup line "Can I be your first mistake of the New Year?" Hilton Chicago (720 S Michigan Ave, 312-922-4400). Dec 31, 9pm–2am. $155 and up.
---
Perks of being single during the holidays By K. Aleisha Fetters
No one will know you watch Love Actually at least three times a week. * No sweating bullets over finding a perfect relationship-stage-appropriate gift. * On that note, not buying an iPad Mini for your hypothetical partner means $500 to spend on a gift for yourself. * Three words: Cute strangers, mistletoe. * You can turn on football instead of ABC Family's 25 Days of Christmas. * The only family you are obligated to see is the one you are related to. * No fights in the car over who said what to whom at dinner. * You can hook up with your office crush. * You won't have to feign that you adore the toaster your boyfriend's mom bought you. * You won't have to feign that you adore the socks your girlfriend's mom bought you. * You don't have to share your Christmas cookies. * On that note, no one will see your winter weight if you don't want them to. * You can sing (out of tune) to all of the Mariah Carey/Bing Crosby/Glee cast cheesy holiday music you want. * People start checking their messages on Match.com over the holidays. * You might get laid on New Year's Eve.