Fishing in the Chicago River with an expert
Free fishing awaits all summer on the Chicago River, and not just for floaters.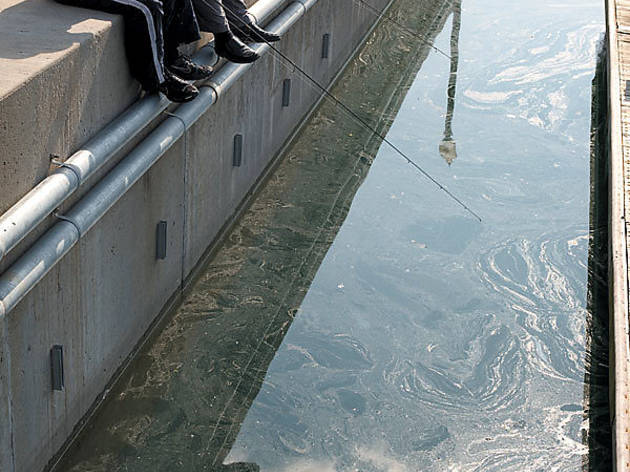 Bob Long tells the Chicago River stories you expect to hear, like the afternoon last summer when a dead man came unstuck from the muck, popped out of the chop near North Columbus and East Wacker Drives and bobbed along as Loop lunchers gawked.
"That was great," Long says one recent morning as we dip our lines in DuSable Harbor, where the river meets the lake. "Everybody was eating sandwiches and watching the police pull out Joe from Idaho. I don't know why tourists come here to jump, but they do."
But for every tale confirming the view of the river as a neon-green sewer best observed from a bridge deck, Long, coordinator of Mayor Daley's Fish 'N Kids Program and Mayor Daley's Chicago River Fishing Festival, tosses out ten anecdotes about how our urban waterway brings together diverse groups of people in harmonious pursuit of reeling in the big one.
"When you catch a nice big fish, all of a sudden you interest people who are white, black, Asian—it's universal; everybody has a stake in it. If you land it, they applaud. If you don't, they say, 'aww.' These little communities form," says Long, 59, who grew up in then-middle-class Park Manor on the South Side, studied sculpture at the School of the Art Institute of Chicago and had a varied news media career before hooking up with the Chicago Park District.
That's not to say first-time river fishers aren't sometimes wary of all that diversity. "People will call about a stretch of river on the South Side and ask me if it's safe," Long says. "I tell them we stopped eating white people a long time ago—too much cholesterol."
Under Long's easy tutelage, I land five fish in an hour—four rock bass and a shiny orange pumpkinseed. With nearly 40 varieties swimming beneath the murk, there's a lot of rod-and-reel action available. Get in on it at Columbus and Wacker during the fishing festival, which runs Monday through Friday 10am–3pm from Monday 22 though August 7. Thanks to a state waiver, no license is required, and anglers can grab pole and bait for free.
When you land a fish, though, toss it right back after a photo op. "Do not eat anything from the river," Long cautions. "The river has been cleaned up, but so much has been dumped. In 200 years, it'll be fine."