Found in Town put to the test
Chicago's new free lost-and-found Web service gets a trial run.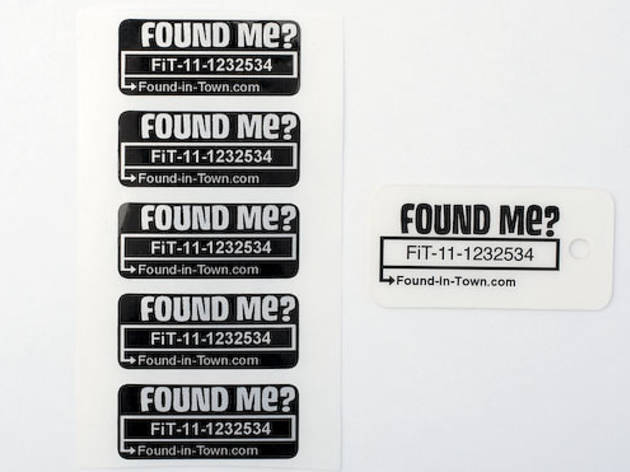 Last week, I was on an epic losing streak.
On a pew at St. Peter's Church, at Madison and Clark, I left behind a suitcase full of books. I misplaced a digital camera on the floor of an elevator at City Hall. Beside the Cultural Center's bust of Ira J. Bach, a city and regional planner, I "forgot" an ATM card. At a bus-stop bench near Jackson and Michigan, I set down a pair of eyeglasses in a case and never picked them up. I left a cell phone on a seat of the 147 Outer Drive Express. Standing on the sidewalk under the Oriental Theatre marquee on Randolph, I dropped a ring of keys from my pocket—not once, but twice. On my first attempt to lose the set, an overeager suited gentleman with sonar-like hearing yelled from across the street: "Hey! Key, keys, keys! Dropped your keys!" I waved and smiled in false thanks. And when he was out of sight, I dropped the keys again and walked away.
Yes, I was losing on purpose.
My mission: to test the local Web start-up Found in Town, a free service launched last month that uses numbered tags to help strangers notify the owner of a lost item once it's been found. After registering my critical info online—name, address, phone number and e-mail—I received five stickers and one plastic key-ring tag, each stamped with my individual code, FiT-11-1232534, and the website's URL. To report a found item, a person can punch that code into a field on the site, then describe the item and how to retrieve it.
Before heading out to ditch my stuff, I met up with Zach Haller, the 27-year-old Lakeviewite behind Found in Town. He hatched the idea in the summer of '09 after losing his keys. "I was thinking, If someone found my keys on the sidewalk right now, they don't even know I exist, much less how to get a hold of me. So I resorted to writing my phone number on a tag on my key chain. Then I thought that through: The phone number is not confidential," said Haller, a full-time paralegal and the creator and instructor of Gagerobics, an aerobics class at Lakeview Athletic Club set to Lady Gaga jams. "Found in Town is basically a way to sterilize the lost-and-found cycle."
The Minneapolis native has a surprisingly sober appraisal of his own service. Thus far, there are around 250 participants signed up and he has solicited four Boystown bars to advertise on the key-chain tags. But the brand recognition necessary to make the service extremely helpful isn't there yet. "I wouldn't have too high hopes for it at this point because it's so new," he said. "I think people may see the sticker and think, Found in Town? I don't get it."
It seems that's exactly what happened. Of the six items I lost, only one made its way back to me. (That's a 16 percent rate of return.) About 22 hours after I went on my losing spree, I received an e-mail with the subject line "Missing Tag Detail from Found in Town." Toni O'Neill, the Cultural Center's concierge, had the ATM card (an old canceled one), which was found by an employee. She left her e-mail, phone number and address.
"I was about to put it in the safe and I said, 'Wait a minute. What is this sticker here?' " O'Neill recalled when I arrived to claim the card. She was an instant convert. "I'm going to join up because I think the idea's just brilliant," she said. "I just lost my bus pass—the first time in four years. If I had a sticker on it, I'd probably have it back."