Fran Lebowitz | Interview
Until we elect President Lebowitz, the raconteur has plenty to say about our imperfect world.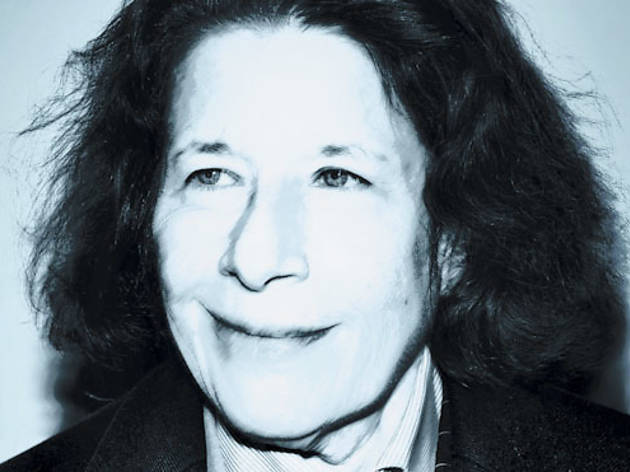 Fran Lebowitz's contrarian character becomes evident seconds after she answers the phone in her New York apartment. Me: "I know you're a night person. I hope I'm not waking you." Her: "Well, I got up for it." "Did you really?" "Oh, not really. You're not the only problem I have today." "What are your other problems today?" "There are other things I have to do with people who live during the day." On October 2, the 61-year-old raconteur will appear at the Harris Theater for a talk moderated by Steppenwolf's Martha Lavey.
As a quintessential New Yorker, do you find Chicago second to New York in all things?
Well, I didn't name it the Second City.
But how do you personally find it?
The Second City. [Laughs] However, I think there are only two. To me a city is a place where you can put your hand in the air and you can get a cab.
Your talk here is called "A State of the Union Conversation." I suspect the state of the union is not a cheery one in your view?
I'm used to having opinions by myself, but I cannot be the only one who noticed the shape the union is in. Last time the President gave the State of the Union address, I watched Obama give the State of the Union address, and then I watched the Republicans give the State of the Confederacy address.
You think it's that bad, that bifurcated?
Yes, it's that bad, and it's bad in that way. That's who I think the Republicans are. They're the Confederacy. They are really sore losers, not just in the last presidential campaign, but the Civil War. They never got over it, and they never got right about it, either. If you really look at their so-called policies, those are the policies of slaveholders.
So you mean it drives slaveholders crazy to be ruled by a black man.
Yes. This thing about the birth certificate—that is a hundred percent what that is about.
What's your prediction: Obama or Romney?
I would bet you a hundred dollars Obama wins, but not a thousand.
You seem anachronistic: In an era of "everyone's opinion has merit," you value intellectual elitism. Do you think we've taken social equality to mean intellectual equivalency?
Yeah, but there is some reality to the fact that everyone's opinion counts now because of technology; they are seen, heard or counted. And that is business. But their opinions are not more informed; they're not better. I don't know if it's anachronistic to imagine that some people are smarter than others. That's just a fact. Everyone's fine with "some athletes are greater than others."
Why has "elitist" become an epithet then?
Because it was invented by the elites to distract you. In this country, the elites are just—it's purely about being rich. But they want you to think it's an attitude. And so you get literally billionaires yelling about the elites. When they say "elite" in a disparaging way, they mean "smart," not "rich." Anti-intellectualism is American. It's built into the country. And it's never served the country well.
Your publicist told me you're great on topics, terrible on personal stuff—
I'm not terrible. I just won't answer them.
Another publicist advised me to steer clear of asking about your coming out and writer's block. You're in the business of talking about your personal views, yet you're averse to talking about your personal life.
To me there's a big difference between public life and private life. That is the most anachronistic thing about me. It's not that I'm hiding something. I'm not a serial killer.
Isn't there a connection between what you've experienced and what you think and do?
But that's not what people ask you. People are asking you gossip, and that I will not engage in. The things I know about people I never met—it's absurd!
When you say "things," you mean sexuality?
Every kind of thing. I assume you mean being gay or not being gay. I never hid my life, you know. There was never any fake boyfriends around, which many people my age did. You have to understand: The difference in generations with homosexuality—there's no bigger difference. There was an unbelievably critical article [in Newsweek] about Sally Ride not having come out as a lesbian. To me that is outrageous!
Because there's a lack of appreciation for what it was like for your generation?
Yes. It was out of the question that that was acceptable—in the most profound way that someone young cannot imagine. By the way, it was illegal! Which everyone forgets. You know when people talk about raiding gay bars in the '70s? Yeah, those were cops! That wasn't some football player in high school. Those were cops that took you to jail!
You've called happiness not a condition but a sensation. What moment were you happiest?
Hmm. I'm certain there was one. Well, the day that I could really read easily. I was, like, five years old, and I was reading a Nancy Drew book.
In a perfect world, would we all be your sycophants?
In a perfect world, I would be the President of the United States. You would be my constituency.
Lebowitz speaks at the Harris Theater October 2.