Frankly Sinatra
A Rockford woman plans to auction a piece of Chicago history: Ol' Blue Eyes's nasty note to Mike Royko.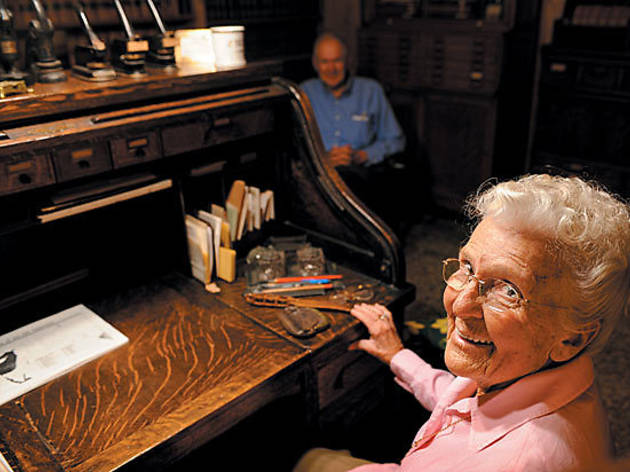 "Father says, 'Your mother's right, she's really up on things.'"
Vie Carlson, mother of Cheap Trick drummer Bun E. Carlos, lived up to the classic lyrics of her son's band when she bid $400 on a snippy letter Frank Sinatra sent to Mike Royko back in 1976. The singer penned the angry missive in response to the Chicago columnist's article about Sinatra's alleged diva-like behavior during his four-night Chicago stay in early May of '76. Last July, the letter was appraised at around $15,000. Now, the Rockford woman is ready to surrender her treasure.
Carlson, 84, closely followed Royko's Chicago Daily News coverage of the feud, which began when he laid into Sinatra for requesting a large police detail to escort him around town while "ordinary taxpayers barely got scraped off the sidewalk after somebody bashed them in the head." He also accused Sinatra of having punched an elderly man outside a bar. On May 5, the day after he received the peeved crooner's letter, Royko announced in his column that he would auction off the note. All the money would be donated to the Salvation Army.
"If the money wasn't going to charity, I might not have bid two cents on it," Carlson said recently by phone. But "on the spur of the moment," she called Royko's office on the auction's last day. The woman who answered the phone told Carlson that Royko had left for the day, but it wasn't too late to bid. Carlson glanced in a desk drawer and spied a check for $400, a Mother's Day gift from her kids, and made the offer.
Weeks later, while Carlson was guiding a tour through her museum, Carlson's Western Town, a still-active replica of the Gunsmoke TV studio that she and her husband built in front of their house, Royko called with congratulations on the winning bid. "I was thrilled!" Carlson said. "I told him, if nothing else, I could show it to the student groups who regularly toured our Western Town, to show them how they shouldn't turn out. Sinatra sounded like a hoodlum. I mean, would you use the word crap in a letter?"
In the two-page typed note—among the luminaries cc'ed are Mayor Richard J. Daley and Daily News publisher Marshall Field IV—the songster calls Royko "a pimp…using people to make money": "It's quite obvious that your source of information stinks, but that never surprises me about people who write in newspapers for a living," he fumes. "Quite frankly, I don't understand why people don't spit in your eye three or four times a day." Sinatra promises Royko $100,000 if he can prove that Sinatra punched a drunken elderly person. Royko could double his earnings if he could pull Sinatra's alleged hairpiece; if he couldn't, Sinatra would punch him in the mouth.
"My colleagues and I were blown away," Simeon Lipman, an NYC-based appraiser of pop-culture memorabilia, says of the rare, uncensored look at the legend. "Sinatra's very strong sentiments make it very unique." Lipman evaluated the letter in June, when Carlson toted the framed pages to Madison, Wisconsin, where PBS's Antiques Roadshow taped an episode that will air in January. Even letters from Sinatra to other Rat Packers don't rival the value of Carlson's letter, Lipman says. "It's once-in-a-lifetime Sinatra memorabilia."
Carlson plans to put the letter up for auction on eBay and on Cheap Trick's website. She says the money from the sale will go to her family, her church and the Salvation Army. She'd like to think Royko would've wanted it that way.