Fright night?
We "undertook" a trip to the hinterlands in search of scares. See which haunted houses delivered and which were DOA.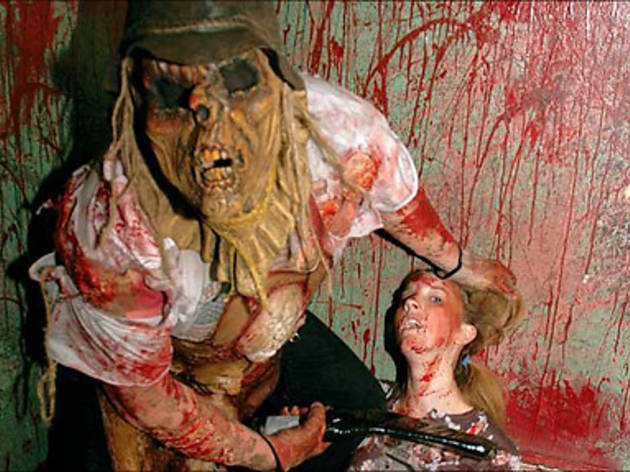 Unfortunately for city dwellers, all the good haunted houses are way out in the outer limits of Chicagoland's suburban galaxy. But if you're willing to make the trek—we sure were—then some pee-in-your-pants, leave-the-kids-at-home scary fun awaits. (For family-friendly options, check Around Town.) Also, keep in mind that while most are open Thursday through Sunday, many extend their hours in the days leading up to and immediately following Halloween.
Statesville Haunted Prison and City of the Dead
Siegel's Cottonwood Farm, 17250 S Weber Rd, Crest Hill, 877-722-7332, www.statesville.org
We expected a Silence of the Lambs setup where you gawk at prisoners, but it's more like you're incarcerated in an insane funhouse with guards shuffling you along and calling you "juicy little maggots."

Cost $25
Wait time 55 minutes on a Saturday night
Duration 20 minutes
Length of drive (from the Loop) One hour
Who's there High-school kids, some metal punks and some older folks
Extra points The bloody-clown scene featured a red-and-white-checked rabbit-hole tunnel that was trip inducing—literally.
Anything else to do on-site? There's a pumpkin patch, a Halloween shop and Kyle's Corn Crib, where you can snack on caramel-drizzled popcorn and apple cider.
Makeup/believability: 5/5 stars
The Statesville segment was pretty impressive—especially the electrocutions. And then there was the insane asylum, which had a whacked-out doctor with a mumbling straightjacket posse, as well as a girl cut off at the waist and hung in a goth crucifixion. Nice. The City of the Dead was more amateur—basically just lethargic people in glow-in-the-dark makeup.
Scary level: 5/5 stars
The prison was jump-back-and-scream scary, but not the kind that has you shaking when you're out. Some of the effects, like the electrocution, were almost awe inspiring.
Overall rating: 5/5 stars—Leah Pietrusiak
Dream Reapers
1945 Cornell Ave, Melrose Park, 708-344-2084, www.dreamreapers.com
The actors here get a lot of mileage out of the old jump-out-and-startle routine, but it's the other stuff that really gets you. Think horny inbred rednecks straight out of Deliverance, a deadly viral-epidemic scenario, and a little girl in chains giggling maniacally as her father chops someone to pieces in a bathtub. Disorientation adds to the scenes' mind-bending effects—the strobe lights had us staggering, while the vertigo tunnel made us feel pretty damn queasy. And while the house heavily promotes its "Sinister Scents," we wouldn't have noticed the grave, forest and popcorn smells if we didn't have our noses perked in anticipation.

Cost $15
Wait time Amazingly, there was no wait on a Friday night.
Duration We were in and out in 16 minutes, but later in the season when the crowd thickens, pileups and bottlenecks are sure to slow things down.
Length of drive 35 minutes
Who's there This one's a favorite with both jaded and exaggeratedly freaked-out high-school kids, and couples looking for an excuse to cozy up. Younger kids were scarce, except for the ones in cages.
Extra points For a second, we considered rescuing a forlorn-looking little boy in a cage who reached his thin arms out between the metal bars.
Anything else to do on-site? Just a corny gift shop
Makeup/believability: 5/5 stars
We got some serious shivers when one of the creepy Gacy-like clowns leaned in to lasciviously whisper, "You smell nice."
Scary level: 5/5 stars
Those emaciated kids freaked us out.
Overall rating: 5/5 stars—Martina Sheehan
Nightmares Basement of the Dead
42 W New York St, Aurora, 630-896-2466, www.42fear.com
The tidy brick building along the riverwalk looks more Crate and Barrel than pit of hell. There's a backstory about undead sweatshop workers,but there's no attempt to perpetuate the theme.
Cost $12 (the website has a coupon for $2 off on Thursdays and Sundays)
Wait time Five minutes on a Saturday night
Duration 12 minutes
Length of drive 55 minutes
Who's there A milf with a gaggle of shrieking tweens, high schoolers on group dates
Extra points A catwalk through a spinning tunnel had us clutching the railings and our stomachs. One member of our group was isolated and trapped in a corner by an actor, and had to finish alone.
Anything else to do on-site? No, but it's spitting distance from the Hollywood Casino and several friendly pubs.
Makeup/believability: 4/5 stars
An uncanny severed head explains the rules: Don't touch the actors, and they won't touch you (later we learned that beating us with disembodied limbs was a-okay). We spent five minutes wandering past samey scenes of plasticky disemboweled stiffs on gurneys, presided over by cleaver-wielding weirdos. Then things got spookier: A dude blows his head off with a shotgun while an onlooker vomits copiously; actors emerged out of the darkness to breathe down our necks and rasp in our ears "You smell goooood, darlin'?."
Scary level: 4/4 stars
Most scares were of the shock variety (e.g., hair-parting bursts of air)—we hoped for more subtle, chilling tableaux and a little dark humor.Overall rating: 4/4 stars—Chad Schlegel
Trail of Screams
5804 N Main St, Rockford, 815-965-6772, www.trailofscreams.com
The aptly named Trail of Screams takes over Rockford's YMCA Camp Winnebago each October to offer one of the only indoor-outdoor haunted-woods experiences around. First, you traipse through the woods and fields from the "meatpacking factory" (great rotting meat stench) to the "insane doctor's office" (weak acting). You end up walking through five different buildings set up along the trail, and there are a million chances for creatures to come flying out from behind trees and brush—but none ever did.

Cost $11
Wait time 15 minutes on a Saturday night
Duration 28 minutes
Length of drive With killer weekend traffic, it took two and a half hours. Now that's scary.
Who's there Gothy kids in their early twenties and handsy couples looking about ten minutes away from consummation
Extra points The surprise factor when the floor drops in the "prison"
Anything else to do on-site? No
Makeup/believability: 3/5 stars
A couple of costumes were really great, such as the eight-foot-tall Predator-ish creatures, but most of the actors ruined the effect by not staying in character. When an 18-year-old grim reaper is on his cell phone and Michael Myers is on a chili break, it's a bit tough to suspend disbelief.
Scary level: 3/5 stars
Considering the number of opportunities to scare the living shit out of us, we were bummed that the most freaked out we got was driving along the dark, windy road to get to the camp. We're city kids in the middle of the pitch-black woods and we paid you to scare us. Do it.
Overall rating: 3/5 stars—Heather Shouse
The Eleventh Hour, The Third Dementia, Pitch Black and Chain Reaction
493 N Oaklawn Ave, Elmhurst, 708-243-6864, www.eleventhhour.info
The anticipation during the drive here was the scariest part of this typical "Boo!"/"Yikes!" house of horrors. Mobile homes in a baseball field set the stage: We stumbled through a haunted boarding house, a hallway of low-budget black-light murals, a graveyard scene and a strobe-lit chain-link fence maze, all without breaking a sweat. And the actors weren't exactly intimidating—we were pretty sure we could take on both Mr. "I'm Wearing a Mask of Human Skin" and Mr. "Garden-Variety Psycho in the Chain-Link Fence Maze."

Cost $17
Wait time 31 minutes on a Saturday night
Duration 13 minutes
Length of drive 30 minutes
Who's there We were in line with a mom, her sister and her kid, and a gross teenage couple totally making out.
Extra points It did have the token "breathe on the girl" fake-ass zombie guy, which was almost refreshing.
Anything else to do on-site? No
Makeup/believability: 1/5 stars
Weak. The graveyard characters were sporting your basic goth-casual look with simple black-and-white face paint, no more extreme than your average Hot Topic cashier.
Scary level: 1/5 stars
It's less scary than hanging out anywhere else on this stretch of Lake Street, which is full of "massage parlors" and country-music sports bars.
Overall rating: 1/5 stars
Save your money for a ticket to Dream Reapers and the therapy you'll undoubtedly need afterwards.—Lauren Kessinger