Glass up the joint
A glass pumpkin patch at Morton Arboretum blows visitors' minds.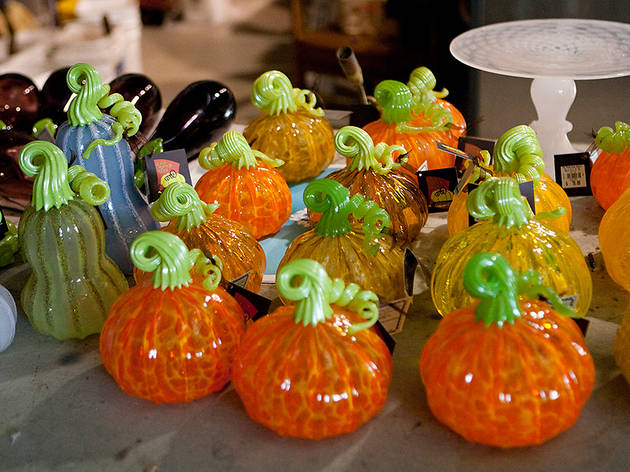 1/8
Photograph: Michael Jarecki
Chicago Hot Glass artist Kit Paulson's glass pumpkins await transport to the Morton Arboretum. Paulson is one of 15 artists whose blown glass works will be featured in the Arboretum's Glass Pumpkin Patch Exhibit from October 17-21. Approxiamtely 3,000 hand-blown glass pumpkins will be on display.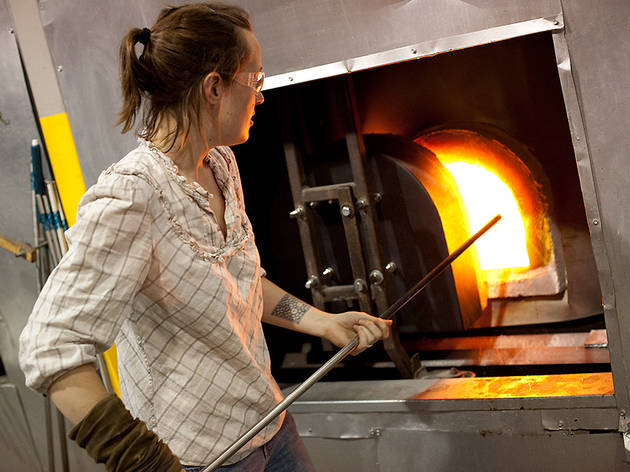 2/8
Photograph: Michael Jarecki
Paulsonscoops liquid glass from the furnace.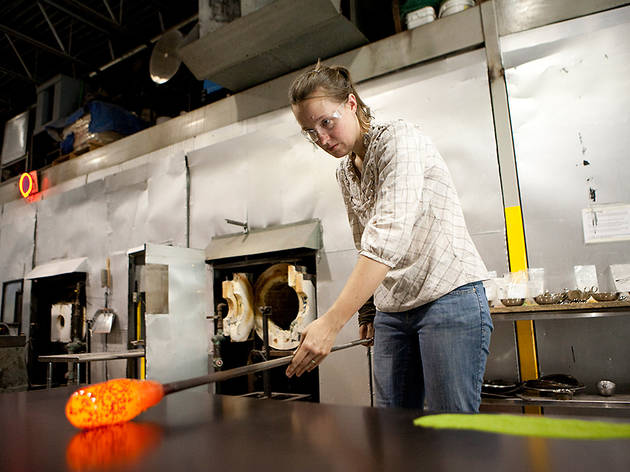 3/8
Photograph: Michael Jarecki
Paulson "marvers" the glass. This helps to shape and center the piece.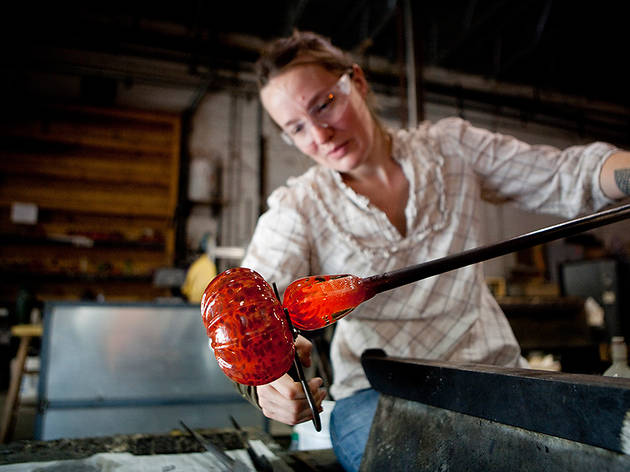 4/8
Photograph: Michael Jarecki
From a work bench, Paulson uses her shears to further shape the glass pumpkin.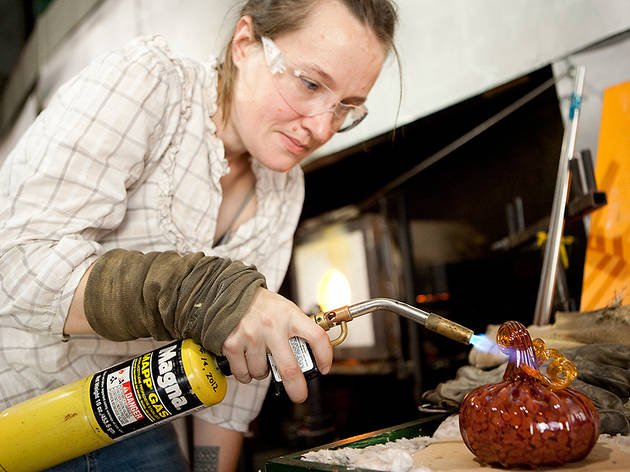 5/8
Photograph: Michael Jarecki
Paulson uses a blow torch to create a smooth finish on the thorn-edged stem.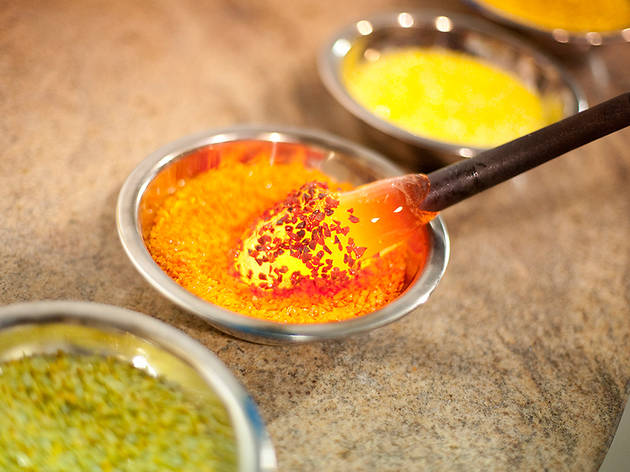 6/8
Photograph: Michael Jarecki
The liquid glass is dipped into oxides known as "frit". These particles are used to add color to the glass pumpkin.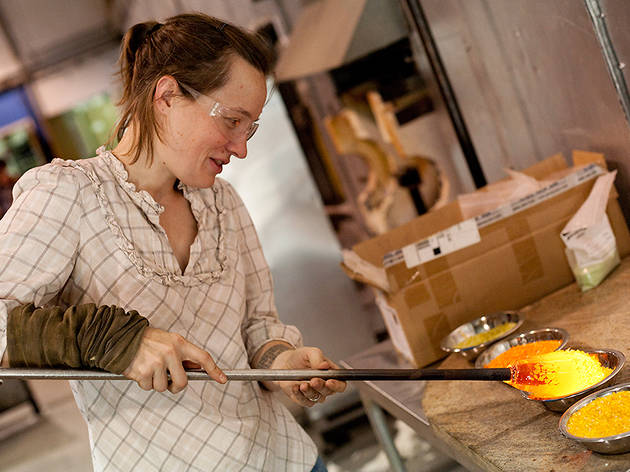 7/8
Photograph: Michael Jarecki
For more complicated glass pumpkins, Paulson adds another coat of "frit" to the heated glass.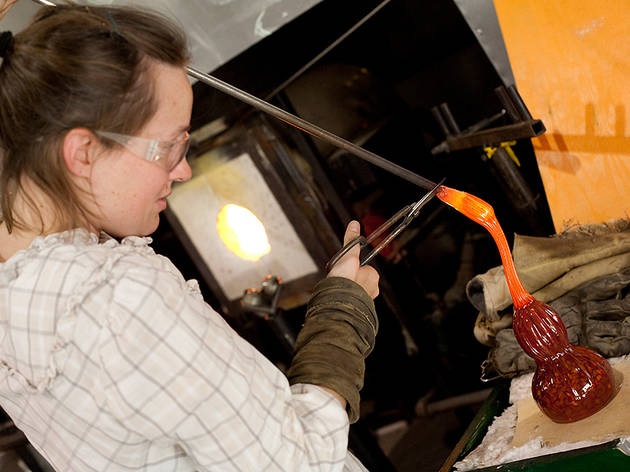 8/8
Photograph: Michael Jarecki
Using a spare steel rod and jacks (tongs), Paulson adds a stem to the glass gourd.
Standing in front of a 2,080-degree furnace, Chicago Hot Glass technician Kit Paulson doesn't flinch as she dips the base of her blowpipe inside, scooping a mass of hot liquid glass. Last October, Paulson was one of a handful of Chicago artisans invited to make glass pumpkins for the Morton Arboretum's inaugural glass pumpkin patch exhibit, a display of 3,000 glass gourds stretched out on the lush Arboretum West Lawn. The exhibit returns this year, giving visitors the chance to marvel once again at the outdoor showcase and attend demonstrations by more than a dozen artisans, including Paulson, who walked us through the process.
"Participating in the debut [last year] was amazing!" says the Lincoln Square resident, preparing to blow into her pipe, a long rod that inflates the molten liquid latched onto the end of the device.
In the male-dominated molten medium, Paulson is a veteran with more than a decade of experience. She developed an interest in glassblowing as a fine-arts major at Alfred University in western New York during the early 2000s. In 2005, an artist pal showed her how to make pumpkins.
On my visit to the West Humboldt site where she works, Paulson makes two pumpkins with intricate winding stems and a more complicated squash in less than 30 minutes. She has the technique down to a science.
Walking briskly from the furnace to the glory hole, a reheating device, Paulson explains, "You have to keep everything hot, which means you have to work fast. If I allow the pumpkin to cool and attempt to attach the hot stem, it'll break."
As she reiterates the importance of keeping the glass hot, she centers the small blob of lava on the base of her pipe by rolling it back and forth on a heat-absorbing marver board. She then reheats the glass, which cools immediately, and coats it with frit—granulated bits of minerals and oxides used to create pigment.
After reheating, the molten mass is ready for shaping. Before taking a seat on the bench, Paulson centers the blob again at the marver board. She then takes a seat on the bench, rolling the pipe with her left hand and rounding the now spherical object with a block in her right hand. She uses only a few tools—shears, a paddle, jacks (tongs), tweezers—that get an occasional dip in beeswax to remove glass particles—and a water-soaked woodblock that helps cup and shape the pumpkin. For the record, she broke one out of every 20 pumpkins while creating 480 total, but proudly denies having the familiar "glassblower's tattoo," or burn marks on the elbow. She does admit, however, "My hairline gets burned a lot."
The Glass Pumpkin Patch is on display at the Morton Arboretum, 4100 Illinois Rte 53, Lisle (630-968-0074). Wed 17 and Oct 18, 1–5pm; Oct 19, 10am–1pm.