Gluttony: Face jam
Take your sinful bod for a gambol on these delicious, not-too-deadly walks, starting with a gluttonous ramble through Oak Park.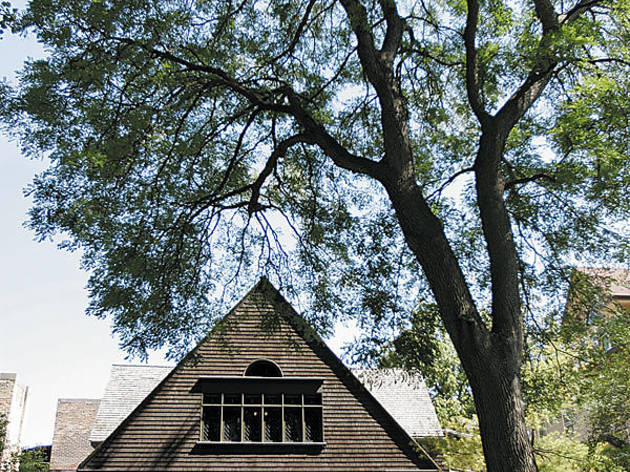 Map: Peter Hoey
Photo: Michael Jarecki
TIME 45 minutes
START Petersen's Ice Cream
FINISH Hemingway's boyhood home
MILES 1.9
A cone from Oak Park's legendary Petersen's Ice Cream (1100 Chicago Ave, 708-386-6131), kicks off a gluttonous walk the way it should be started: with dessert.
That great sugar rush will propel you east on Chicago Avenue, past Frank Lloyd Wright's Walter Gale House (1031 Chicago Ave), whose curvaceous architecture may compel you to stop (but whose BEWARE OF DOG sign will dissuade you from prolonged ogling). Keep going east to Wright's former home (951 Chicago Ave, 708-848-1976). Stroll through the garden but don't dawdle—there's still gorging to be done.
Finish that cone as you head south on Forest Avenue. You'll pass more Wright creations—the carved-stone work at the Moore-Dugal Residence (333 Forest Ave) makes the huge price tag of these houses almost seem worth it. Cut through Austin Gardens (Forest Ave at Ontario St), taking in its stone sculptures, then head to Lake Street, turn right and prepare to chow.
Photo: Michael Jarecki
If you crave some salt to offset the ice cream, the cheese popcorn at Wells Street Popcorn (1119 Lake St, 888-576-7267) will do the trick. But those who can handle even more sweetness will be rewarded with Wells's buttery caramel corn. Take your bag of popcorn back to Lake Street and return in the direction from whence you came and make a right on Marion Street.
At Marion Street Mall, hit Lido's (122 N Marion St, 708-660-0060) for a creamy, full-fat latte, but ignore the baked goods—you'll be getting carbs soon enough. Pass on the croissants at Cafe Minou for the same reason. Instead, stop at Prairie Bread Kitchen (103 N Marion St, 708-445-1234). Order a soft, cinnamon-loaded slice of apple bread (Saturdays only) and eat it as you continue south on Marion. Consider your daily fruit requirement now met.
Time for lunch. Continue on Marion, crossing the train tracks, and walk into Marion Street Cheese Market (100 S Marion St, 708-725-7200). Order a sandwich, any sandwich, as long as it has this joint's irresistible aged Gruyère. While you're there, grab a housemade chocolate bar.
Sandwich and chocolate in hand, walk north on Marion for a block and go right on North Boulevard. Stick your head into Hayes' Coffee (1010 North Blvd, 708-524-1914). Inhale deeply to catch the aroma of dark-roasted coffee beans. The scent alone will provide a sufficient pick-me-up.
Photo: Michael Jarecki
A quick left on Forest Avenue and soon you'll hit Lake Street again. Make a right. You'll pass many churches, so pray this walk doesn't inflict diabetes. Soon you'll see Tasty Dog (708 Lake St, 708-383-2645). Don't resist —go in, get one and take that dog for a walk about half a block back west on Lake Street to Great Harvest Bread Co. (736 Lake St, 708-848-5700). Grab a whole-wheat cinnamon roll and consider today's whole-grain requirement met.
Cinnamon roll in hand, take a right onto Oak Park Avenue. You'll pass the Hemingway Museum (200 N Oak Park Ave, 708-848-2222), and soon run into 339 North Oak Park Avenue, Papa's boyhood home. Stare at his old bedroom windows, tearing the cinnamon roll apart and stuffing it in your mouth as you gawk. This place once housed a great man, a man who could eat and drink with the best of them. Even you.
WHILE YOU'RE THERE
If you happen to be in this 'burb on a Saturday before October 25, stop by the Oak Park Farmers' Market (Lake St at Elmwood Ave; 7am–1pm). The range of vegetables, fruits, cheeses and other sundries is bound to impress you, but the real draw—if you get there early enough to nab some—are the freshly made doughnuts.