Grant Park and Millennium Park festivals
These tips help you make the most of your Grant Park and Millennium Park festival experience.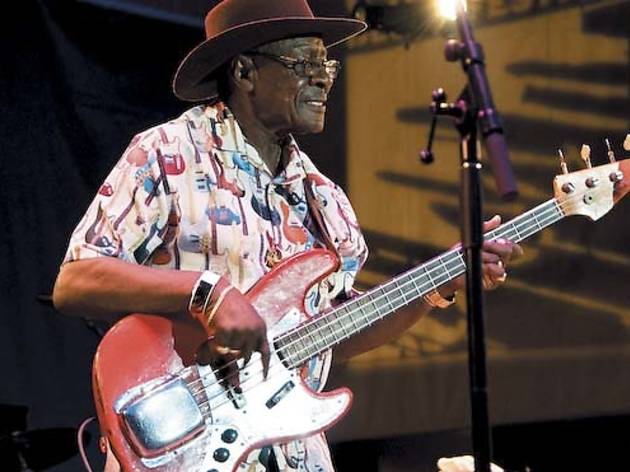 ➊ Good news for all type-A festivalgoers attending the Chicago Blues Festival (Jun 8–10): There's an app for you. It comes complete with schedules for all the main attractions (Mavis Staples!), maps, restaurant info and fun deets for blues aficionados. Sorry non–iPhone or Android smartphone users, you're out of luck.
➋ If, like the rest of the world, you loved the high-def cinematic stunner Planet Earth, BBC/Discovery Channel's 2006 documentary on, well, the Earth, Grant Park Orchestra will be performing the soundtrack and screening scenes from Frozen Planet, the hotly anticipated sequel on July 11 at 8:30pm for the Grant Park Music Festival (Jun 13–Aug 18). Fancy-schmancy reserved seating (starting at $15) in the Jay Pritzker Pavilion's Seating Bowl is available if you want to get in on the cute polar bear action up close.
➌ Theatrics have always been part and parcel of the Chicago Gospel Music Festival (Jun 21–24)—think of the lively, narrative-infused Donald Lawrence & the Tri-City Singers' "Matthew 28,"for example—but this year, festival organizers bring in the professionals. The Goodman Theatre gives an exclusive preview of the gospel musical Crowns on June 21 at 6pm.
➍ Standing in long lines to ultimately snag a tiny serving of pizza or cheesecake is a treasured tradition at Taste of Chicago (Jul 11–15). New this year, the Taste will be offering a real "sit-down dining experience" with a special three-course meal created by a different chef each day. Chefs include Stephanie Izard, Graham Elliot, Carlos Gaytan, Tony Mantuano and Jimmy Bannos, Sr. Called Celebrity Chef du Jour, the meal gives patrons a chance to wine and dine with cognoscenti on July 11, 12 and 13 at 6pm; and on July 14 and 15 at noon. Make sure to buy the $40 ticket in advance; you can bet they'll go fast.
➎ Perhaps en route to a Fame-like (or insert any campy TV show about übercompetitive performers here) existence, local high-school students will be gracing the stage at the Harris Theater, August 20 at 7:30pm for the Chicago Dancing Festival (Aug 20–25). They are beneficiaries of After School Matters, the local nonprofit founded by Maggie Daley and responsible for providing arts education to Chicago public schools, among other programs. It's all part of the festival's plan to enhance community ties this year.
➏ Genius is an overused word for folks prone to the more abstract musical genres like jazz and classical music, but at this year's Chicago Jazz Festival (Aug 30–Sept 2), a MacArthur genius grant honoree will be a main attraction. Ken Vandermark, this year's artist-in-residence, will be playing with four bands throughout the festival. And since he plays the tenor sax, baritone sax, clarinet and bass clarinet, part of the fun will be wondering which woodwind instrument he picks up next.