Grassroots recycling Humboldt Park
Angry with the stalled rollout of the city's Blue Cart recycling program, Humboldt Park residents take matters into their own hands.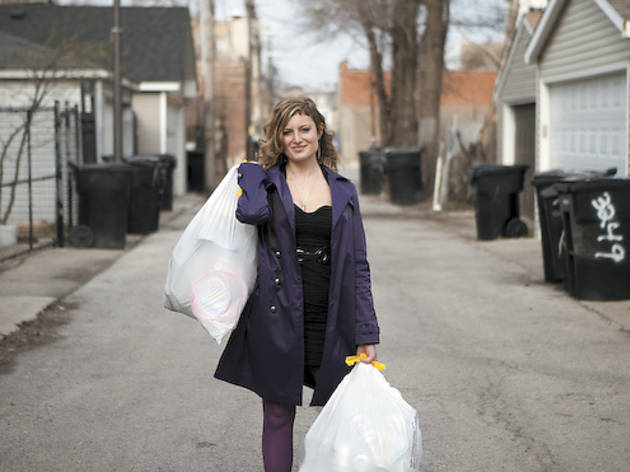 It started with a Christmas tree.
Shortly after moving to Humboldt Park, Rachel Dooley, a 27-year-old graphic designer, needed to recycle her old holiday evergreen, but she'd missed the city's tree-recycling day. She'd also noticed that, unlike the part of Logan Square that she'd moved from, her new neighborhood wasn't served by the limited rollout of the city's Blue Cart recycling program. So as she called around trying to find someone to take her tree, she also sought a way to recycle the rest of her trash.
"It's ridiculous that we live in such a green city, supposedly, and we can't even handle recycling," Dooley says. Finally, she got in touch with the Resource Center, a 35-year-old recycling nonprofit based on the Far South Side. For a monthly fee, the company said, it could send a truck for her recyclables—but only if she could get at least 15 other households in the area to sign on, too. It turned out that a Resource Center employee, Kathryn Lepera, lived near Dooley, and had also been hoping for a better system. Now the two are starting a grassroots movement: Since the city won't send recycling trucks to Humboldt Park, they're going to hire their own Resource Center truck.
Dooley and Lepera have held several community meetings at the KnockBox Café, drawing about 20 attendees each time. The more households that get involved, the cheaper the price will be; Dooley's hoping to keep the Humboldt Park program under $15 a month per participant. Once she and Lepera gather a group of willing households along a reasonably compact truck route, the Resource Center will
draw up a custom proposal for curbside recycling.
Dooley and Lepera aren't the first to hire the Resource Center's services. A year ago, after repeatedly finding the recycling drop-off bin at Kosciuszko Park (a.k.a. Koz Park) filled to overflowing, Logan Square resident Susan Settell started a similar group, centered on Fullerton Avenue between Kimball and Central Park Avenues. That began with about 17 households and now includes more than 30. Each household pays either $20 or $30 a month, depending on whether they want to recycle corrugated cardboard in addition to everything else. There are similar groups in Hyde Park and along Devon Avenue in Rogers Park.
The city's Blue Cart program currently serves only about a third of the city's households. Last August, Mayor Daley announced he was looking into privatization in order to cut costs; he is reportedly on the verge of signing a ten-year contract with Waste Management, the company that sorted recyclables for the now-defunct Blue Bag program. Any privatization agreement would need to be approved after a late-April arbitration hearing and then passed in the City Council by a two-thirds majority.
"Based on the bids [the city has received for recycling contracts], we believe that outsourcing recycling collection may provide between 25 to 50 percent savings to taxpayers," says Shannon Andrews of the city's Department of Procurement Services.
It's not clear what the recycling program will look like after May 16, when Rahm Emanuel takes over as mayor. Asked about recycling, Emanuel's office reiterated a plan to rethink Chicago's waste collection entirely: "The mayor-elect is committed to improving and expanding the curbside recycling program as part of a comprehensive plan to overhaul the city's garbage collection system in order to provide residents with the best service for the best price," Emanuel press secretary Tarrah Cooper says.
Dooley stresses she's not going to wait around hoping the city's program expands to her block: "The city has failed us, as of late—and who knows what will happen with the private recycling?"
To learn more about the Humboldt Park recycling group, e-mail humboldtparkrecycling@gmail.com or join the group on Facebook. To contact the Resource Center, visit resourcecenterchicago.org or call 773-821-1351.