Green parties
Dining, drinking and kid-friendly St. Patrick's Day events for everyone.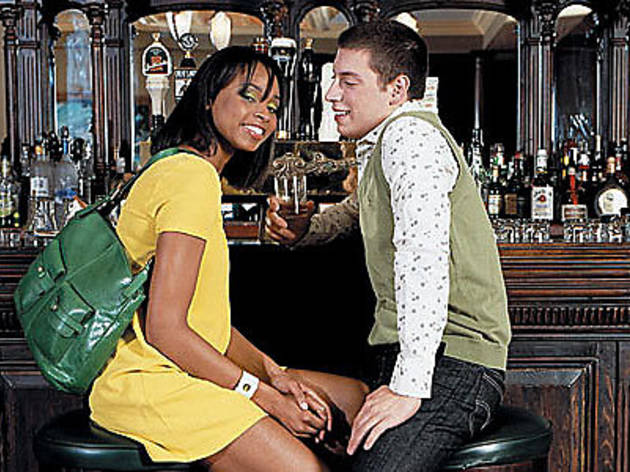 Once again, it's time to do that ol' green some justice and transform the city into a St. Paddy's playland. You knew this day was coming, so plan to deck yourself out in shades of emerald or beware the wrath of the pinch. Start early or celebrate late, but get into the spirit nonetheless with some of these events and specials. No matter where you trace your heritage, there's a St. Patrick's Day event with your name on it. Let the festivities begin.
St. Patrick's Day Celebrations: March 17
Places to Eat
Chens—Go for Chinese cuisine this St. Paddy's Day. Chens is serving up special green menu items, including vegetable dumplings, edamame and green-tea ice cream. Sapporo Drafts and sake bombs are $3. 3506 N Clark St
Cafe Laguardia—Spice up your day by checking out the food and drink specials at this Chicago staple for Cuban cuisine. Starting at 8pm on St. Paddy's, the cafe will host the jazz reggae styles of Dave Byrd and Birds of a Feather. 2111 W Armitage Ave
The Berghoff—Don't miss out on authentic Irish cuisine, including corned beef and Irish stew while enjoying the sounds of a traditional bagpipe group that will begin playing at 6pm. 17 W. Adams St
McFadden's Chicago—Get an early start to eating and drinking at McFadden's, where doors open at 7am on the big day. Until 9am, take advantage of a breakfast buffet for just $20 per person. The party doesn't stop until the early hours of the morning with stilt walkers, Irish car bomb contests, face painters, giveaways and much more. 1206 N State Pkwy
Mity Nice Grill—Lunch and dinner specials run from March 12 through March 18. Try the special corned beef and cabbage dinner or a Reuben with fries for $8.95. Guinness pints and Black and Tan pints will be sold for $3. 835 N Michigan Ave
Bennison's Bakery—Need something to satiate your green sweet tooth? This Evanston bakery is renowned for its breads, cakes and cookies, and on St. Paddy's, it'll be no different, just with a bit of a green twist. Shamrock coffee cake, shamrock cupcakes, Irish potatoes, petit fors, Irish whiskey cake and Irish soda bread will make the day's festivities a bit tastier. 1000 Davis St, Evanston
O'Brien's Restaurant—Live music all day, an Irish lunch buffet from 11am to 4pm, corned beef sandwich station at night and a singing contest. 1528 N Wells St

Places to Drink
Timothy O'Toole's—The pub's seven-day celebration is jam-packed with drinking and entertainment. Drink specials such as $5 green jumbo beers and $5 shots of Jameson will kick off Thursday and last through St. Patrick's Day. Local comedians from comedy troupe Comedians You Should Know will take the stage. For tickets and information, visit comediansyoushouldknow.com. 622 N Fairbanks Ct
Duchamp—If you're in the mood for something new, try Duchamp's new cocktail called Prix M.D. This mixture of modern Irish brew includes Guinness Stout, Domaine de Canton and ginger ale. 2118 N Damen Ave
Fadó—The pub stocks other Irish brand-name drinks, including Harp, Smithwicks, Baileys Irish cream and a large selection of Irish whiskeys. 100 W Grand Ave
Bull and Bear—From 5 to 8pm on March 17, the party will rage on, hosted by Chicago Sport Social Club. Get $3 Coors, $5 Absoluts, $5 Jamesons and $20 Bearels. R.S.V.P. at chicagosocial.com. 431 N Wells St
Abbey Pub—Why not toast to live performances at the Abbey? 3420 W Grace St
Tommy Nevins—Venture to this popular Evanston hangout for an escape from the city. Live bands and performances…and no cover! 1450–1458 Sherman Ave, Evanston
Cityscape Bar—The bar's prime location overlooking the Chicago River is a perfect reason to treat yourself to St. Patrick's Day–themed cocktails and Guinness drafts. Complimentary appetizers, including mini corned beef sandwiches and Guinness BBQ chicken wings, will be served from 5 to 7:30pm each night. Holiday Inn Chicago Mart Plaza, 350 W Mart Center Dr
Events to do with Kids
St. Patrick's Day Celebration at IAHC—Come back to the IAHC on Wednesday for a daylong event that begins at noon and runs until midnight. You don't have to keep the kids out late because performers such as Tim O'Shea and Patrick Buckley, Sheila Tully Academy of Irish Dance and the Chancey Brothers are all taking the stage in the afternoon hours. Tickets can be purchased at the door ($10 adults, children under 12 free with paying adult).