Guerrilla Truck Show | The scene
Moving trucks filled with art and furniture take over the meat-packing district.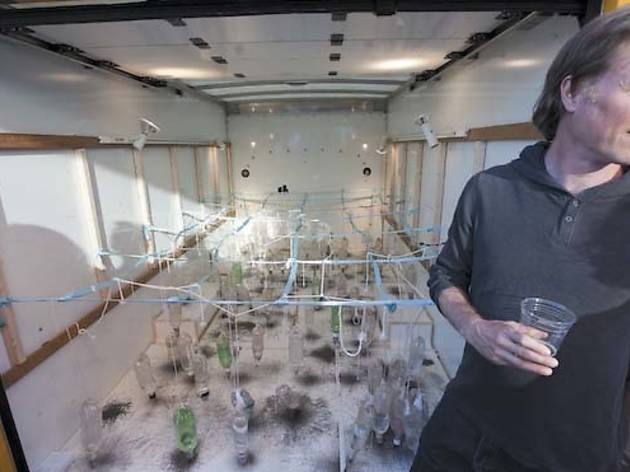 Tuesday, June 12, 6:13pm Not just a boon to Budget, Ryder and U-Haul, the eighth annual Guerrilla Truck Show was also a blessing to aspirants who couldn't pay the steep cost ($45.50 per square foot) for a booth at NeoCon, the international design trade show happening concurrently at the Merch Mart. Artists and designers came out of the woodwork (or out of their private studios) to display their wares in rented box trucks in the Fulton Market. Exhibitors got creative with the limited space. Oak Park–based Modern Industry let passersby play Nintendo 64 on a TV housed in one of the furniture company's wood-and-steel entertainment centers. Danielle Klinenberg lined the edge of one wall with pillows and invited onlookers to cop a squat and listen to a sound collage while considering the lone painting she had hung. Dave Ford (pictured) was truly in his element: For years he's been doing "truck drawings," suspending 100 plastic bottles with penciled tips above sheets of paper in the back of his Penske rental. On a recent trip from Chicago to Philadelphia and back, every turn and bump in the road formed chaotic graphite splotches. As the beer-sipping object fetishists overwhelmed the meat-packing district, at least one slaughterhouse employee in a hairnet was spotted wandering around looking very confused.