Hardcore Pawn: Chicago | It happened here
Chicago's Cohen brothers star in a new pawnshop reality series.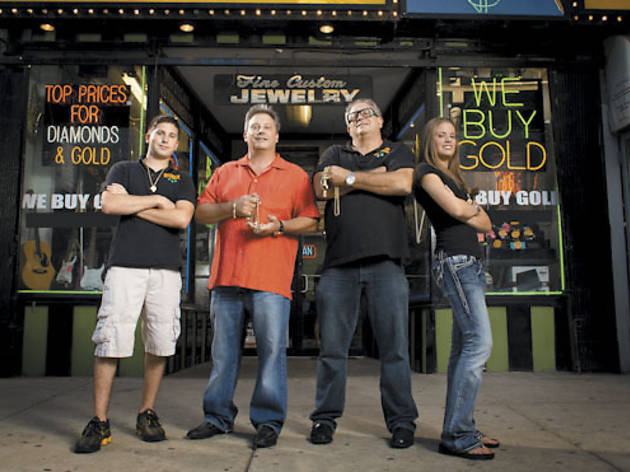 "We got a real zoo in this place," says Wayne Cohen, standing behind a jewelry-filled display counter at Royal Pawn Shop (428 S Clark St, 312-427-6542), the business he co-owns with his younger brother Randy. "You been to Lincoln Park Zoo? You'll have more fun here." The human menagerie proved irresistible to TruTV producers angling to spin off its Detroit-shot Hardcore Pawn series. And the Cohen brothers, with their outsize wiseguy personalities, are natural stars. Hardcore Pawn: Chicago, which finished shooting here in September, premieres January 1 at 8:30pm.
"We were reluctant to do a show because a lot of our customers don't want to be on TV," says Randy, a buff and bespectacled 55-year-old. Royal Pawn is adjacent to an SRO and across the street from the Metropolitan Correctional Center, a federal prison. "People come here to get bond to get their loved ones out," Randy says. "Even their unloved ones!"
"We get some maniacs, man," chimes in Wayne, the goofier sibling. (Their baby brother, Scott Lee Cohen, won the 2010 Democratic lieutenant governor's nomination, but withdrew after an arrest for domestic abuse surfaced and he admitted to past steroid abuse.) "We had a guy with no legs in a wheelchair come in wanting to make a loan," Wayne continues. "I said, 'What do you got?' He says, 'My wheelchair. Lift me up and put me on the curb. My buddy will pick me up in 15 minutes.' I gave him 20 bucks and told him to get the fuck out of here."
In addition to hard-luck stories, the show features Randy's 26-year-old daughter, Elyse, and Wayne's 21-year-old son, Nate, who work as clerks at Royal Pawn. "Once the show comes out," Wayne says, turning away from the counter to rib Nate, "he just hopes he gets laid."