"Heaven + Hell" at Intuit and LUMA
In one outsider art exhibit, two museums share visions of the afterlife.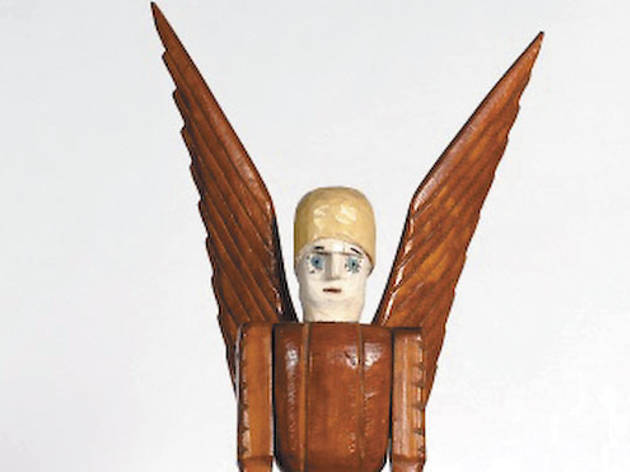 HEAVEN
Loyola University Museum of Art (LUMA) curator Molly C. Tarbell says a two-venue art exhibit on the afterlife came about because her boss, LUMA director Pamela Ambrose, had for some time wanted to collaborate with influential outsider art venue Intuit. "Themes that pop up in self-taught art—biblical themes, and notions of good and evil—naturally contain LUMA's mission of the spiritual in art," Tarbell says.
The two museums decided to split up artworks into two subjects, heaven and hell, with respective displays on each topic: LUMA houses heaven-related artwork while Intuit displays work with hell themes.
Why did LUMA get heaven? "We're maybe the more traditional space; we're part of a Catholic university," Tarbell says.
The exhibition, featuring 164 works from private collections and museums, includes works by big-name outsider artists, such as Sister Gertrude Morgan's paper megaphone, which she painted and used to spread the gospel at New Orleans's Jazz Fest around 1970.
Lesser displayed art includes a four-foot-tall pulpit, painted by Ronald and Jessie Cooper. "The top piece has blues and greens and idyllic scenes of farmhouses, people swimming and angels flying," Tarbell says. "It really draws you in."
HELL
When Ambrose approached Intuit, she suggested a collaborative exhibit on heaven. Intuit curator Jan Petry countered with the idea of heaven and hell. "It seemed like it made the idea more complete," says Petry, adding, "It's more fun in hell, too."
To cull the work, Petry and Tarbell began their quest two years ago, flipping through art catalogs and books. Due to the occasional mysterious provenance, heavy sleuthing—including chasing down work in Louisiana—was needed to find some of the works that intrigued Petry. "We had a lot of interesting experiences putting this together," Petry says.
In "Heaven + Hell," Intuit displays interpretations of Satan in a center structure, which Petry dubbed "devil island." Much ofthe work incorporates found objects or a mixture of traditional art materials, like sand and paint.
A longtime specialist in self-taught art, Petry notes that much outsider artwork prominently features apocalyptic themes from the biblical books Revelations and Daniel, especially popular with Southern artists. "Some do it from a religious effort to get the message out," Petry says. "Others just have fun with the idea of making a stick devil."
"Heaven + Hell" opens Friday 10, 5–8:30pm. A free shuttle runs between LUMA (820 N Michigan Ave) and Intuit (756 N Milwaukee Ave).