Holiday bike rides
Forget sleigh rides: It's lovely weather for a bike ride together with you.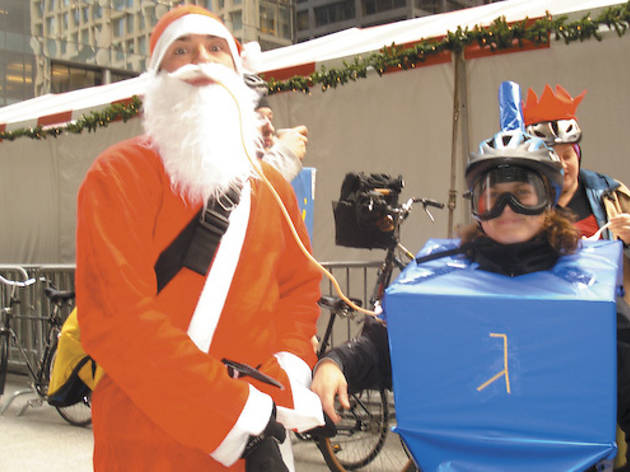 Dreidel and Santa Rampage
Known for their drunken antics, this ride's costumed cyclists fill up their flasks at Binny's on Grand Avenue before bombarding the windows of WGN radio station on Michigan Avenue in the hopes of scoring an on-air interview (did we mention they're actually dressed as Santas and dreidels?). The final stop for this merry bunch is a latke party held at a private home after the ride. Meet at Twisted Spoke, 501 N Ogden Ave (thechainlink.org). Sat 17 at 11am; free.
Bagel Ride
Founded 15 years ago by Jews who had nothing to do on December 25, the annual Bagel Ride is now an esteemed tradition for Christians and noncelebrants, too. The 12­- to 15-mile suburban route varies each year but always breaks for brunch at the deli and restaurant the Bagel (4999 Old Orchard Ctr, Skokie). Meet at Robert Crown Community Center, 1701 Main St, Evanston (chicagocyclingclub.org). Sun 25 at 10am; free, cyclists should bring a bike lock and brunch money.
Critical Mass
The massive, monthly ride is sure to disgruntle drivers when it takes over the Magnificent Mile and other downtown shopping districts, but you'll snicker as you cruise car-free. Before the ride kicks off, look out for freebies like the latest issue of The Derailleur, which includes a 2012 calendar of cycling events. Fleece balaclavas, scarves and gaiters passed out by cyclists and the org Bike Winter will help ward off the wind chills. Meet at Daley Plaza, Washington and Dearborn Sts (chicagocriticalmass.org). Dec 30 at 5:30pm; free.