I think we're alone now
South Haven's secluded shores lure crowd-weary city-dwellers.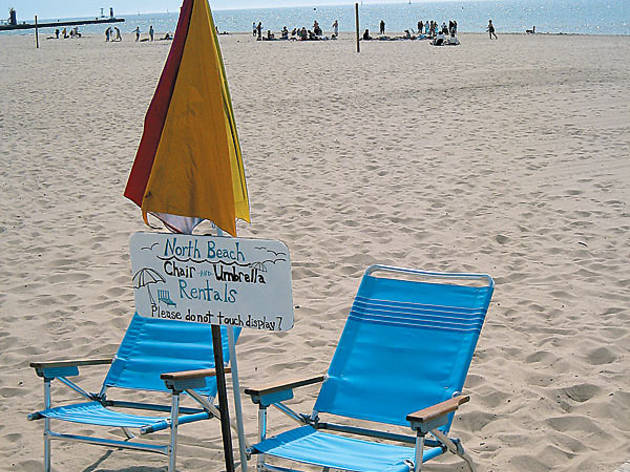 South Haven, Michigan
Round-trip 246 miles
Gas $29
We can go to Chicago beaches anytime, which is exactly what we tell ourselves when the cars back up along Fullerton Parkway jostling to get into North Avenue beach. Next week, maybe.
No excuses for missing the beach in South Haven, Michigan. Roughly two and a half hours from the Loop, this sleepy little town sits squarely on Lake Michigan. The best part: The shoreline's pretty much empty. It's also incredibly accessible, spanning for miles in both directions and situated only a few feet from the rows of houses. Ignore the PRIVATE BEACH signs; they're designed to keep you off the elevated dunes. You want to stay away from there anyway, because the farther you get from the water, the more grass gets in your way. Instead, stay on the sand—oh, the sand! The beach on our side of Lake Michigan is coarse and pebbly; here it's ultrafine—the stuff made for hourglasses and squooshy stress balls.
No need to squeeze a stress ball here; this beach is incredibly quiet. Parents chill out on beach chairs as their kids dig holes in the sand near the water; teenagers kick around a soccer ball; college kids strut around in skimpy suits; the elderly nap. Now's your chance to spread out, bury your feet and soak up some rays. If you get antsy, head to Outpost Sports (114 Dyckman, 269-637-5555). Its crew will outfit you with a boogie or skim board—lie on the former; stand on the latter—for $10 a day. In any case, be sure to hit the water: After the initial chill and row of small, pointy rocks at the cusp, you'll discover South Haven's trademark soft sand and only slightly murky waters.
Most hotels are within walking distance of the water, so you won't need to waste precious beach time traipsing there and back. The Hotel Nichols (201 Center St, 269-637-8725; $120/night and up) is easy to miss—it's a downtown storefront that looks like a tchotchke emporium. But that's part of the charm: The rooms and lobby sport patterned quilts and plenty of antique clocks. Budget travelers can save $20 to $30 a night—and forge intimate friendships—by sharing a shower with the room next door.
If you can afford to plunk down a bit more cash, try the Inn at the Park (233 Dyckman Ave, 269-639-1776; $145/night and up)—it's outside the main strip but across from a tidy little park. Rooms rock the vintage vibe, but some come equipped with modern amenities like whirlpool tubs. There's lots of common space here, including enclosed porches for reading the South Haven Tribune and a chess set for late-night intelligentsia.
Most hotels provide a light breakfast, but you can grab a warm, buttery scone from the Golden Brown Bakery (421 Phoenix St, 269-637-3418) and coffee at the Blueberry Store (525 Phoenix St, 269-637-6322), where there's always a fresh pot set out for free "samples." Of course, everything in the store (and Michigan, for that matter) is heavy on the blue stuff, meaning you're drinking…blueberry coffee. It tastes like burned Fruit Roll-Ups, but the price is right.
Need a lunch that'll eradicate the taste of blueberry coffee from your mouth? Head to Clementine's (500 Phoenix St, 269-637-4755), which offers smiley service and hearty plates, including the lip-smacking strawberry-glazed chicken breast with feta and walnuts. But because the rest of the menu is fairly predictable (turkey sandwiches and house salads), you might want to opt for a red hot from a beach stand. Save room for Sherman Dairy Bar (1601 Phoenix Rd, 269-637-8251), where the scoops are measured in gobs (try the delectable Sherman Tracks with peanut-butter cups).
South Haven loves perch as much as blueberries, so head to the Thirsty Perch Grille (272 Broadway St, 269-639-8000) for a fish dinner. Check out the bottomless bucket of heavily battered perch, Tuesdays only, for $19.99, or the everyday "green" fish of the day that doesn't hurt the habitat they came from at an average price of $18.99. But don't miss the artery-clogging, thick-cut portobello fries appetizer coupled with a pint of craft beer—we're talking Magic Hat, Mad Hatter, Blueberry Ale (not hat-related) and Bell's.
No matter which bar you hit at night, you'll be elbow-to-elbow—under-21ers are allowed in bars until 11pm. After that, get ready for the sleaze: The remaining dudes pursue girls that may be of legal drinking age (though there are obviously plenty of fake IDs floating around). Best to grab a case from The Depot (555 Dyckman Ave, 269-639-8045) and head back to your hotel to nurse those sand-scorched soles.