Ian Schrager and Jean-Georges Vongerichten | 5 minutes with
Famed boutique hotelier and star chef team up for an accessible update on a Chicago classic.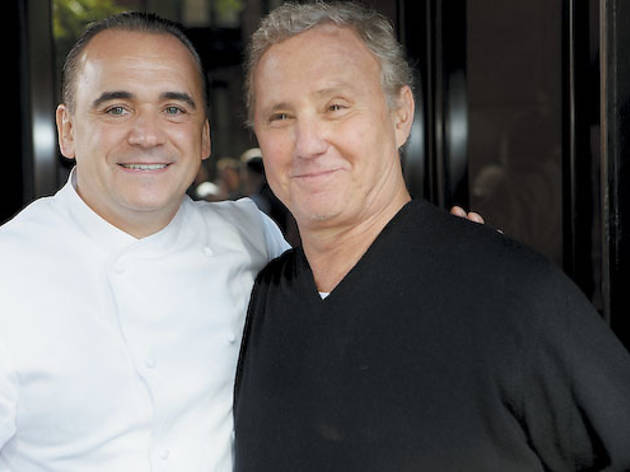 We recently sat down for coffee with the man who revolutionized boutique hotels, Ian Schrager, and celeb chef Jean-Georges Vongerichten (of Vong/ABC Kitchen fame). The two jawed about Schrager's new hotel, Public Chicago (1301 N State Pkwy, 312-787-3700), and updating the attached restaurant, former Rat Pack hangout the Pump Room.
On updating an icon…
IS The original idea of the Pump Room was a great idea: a fun place where all different walks of life could mix and mingle. It was a see-and-be-seen place. That worked for Studio 54, and it worked for Sodom and Gomorrah, I suppose. The color may be different, but it's the same idea.
On coming to Chicago…
IS Interviewers would ask me what it's like to be an outsider. Outsider? I'm an American, what are you talking about outsider? It made me very anxious, and I used to go into interviews saying, "My wife's from Chicago!"
On being "anti-hip"…
IS Hip was something that was meant to be an alternative to what was conventional. Now you've got the largest hotel companies in the world [claiming to be] hip. I don't want to pick that latest flavor of designer. I've jettisoned that and try to rely on good old-fashioned taste and simplicity.
On Public Express, the hotel's quick-service café…
JGV Ian said, "We will serve breakfast in less than six minutes." I was like, "Are you crazy?" They time us every day, and we serve breakfast in four to six minutes. No hotel has that.