Indoor and outdoor ice skating rinks
Show off those figure eights while sliding around some of the best ice skating rinks in Chicago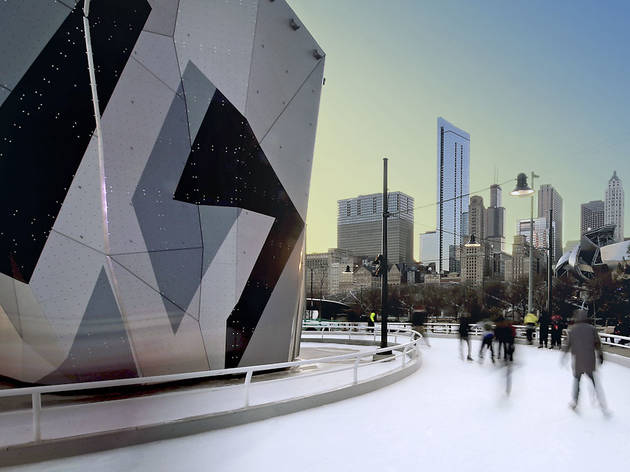 It may be too warm to feel like winter just yet, but seasonal events and holiday parties will be here faster than you can say "Pass the egg nog." Luckily, Chicagoans have access to a city full of excellent indoor and outdoor ice skating rinks, so between your many merry happenings, reserve time to hit the ice with your family and friends this winter.
Note: Ice skating hours may vary based on weather conditions. We suggest calling ahead before setting out to skate.
RECOMMENDED: Our guide to the best things to do in Chicago this winter
Outdoor ice skating rinks in Chicago
McCormick Tribune Ice Rink opens to the public for skating featuring some of the best views of the downtown skyline. Experience one of the city's most wonderful winter traditions from November 17—the same day as the city's 104th annual Christmas Tree Lighting Celebration—to March 4, 2018. Admission is free and hours vary, but a great time is guaranteed.
The Maggie Daley Park ice ribbon looks like a Mario Kart track, but you won't have to worry about dodging koopa shells or banana peels while you glide around the quarter-mile circuit. The Park Department claims that the slippery ring can accommodate up to 700 skaters, so you'll need to arrive early if you want to set a new course record. The rink opens with the Millennium Park Lighting Ceremony and stays open until March 4, 2018.
Want to watch planes fly out of Midway while you glide across the ice? Wentworth Park is your South Side spot. If you're looking for something to do after your fingers are frozen, consider heading south for a beer at the 5 Rabbits Cerveceria. The park's website has the upcoming season's ice rink hours.
Indoor ice skating rinks in Chicago