Intern at any age
Three career-changers tell us about their change of heart.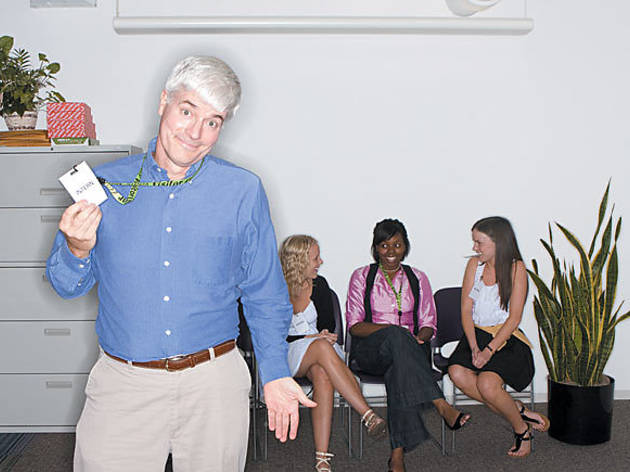 If Kanye West is willing to take an internship at the Gap to learn the ropes of the apparel industry, certainly you can swallow your ego, too. Considering most Americans pursue a few careers in their lifetime, and having experience is often essential to getting a job, it should come as no surprise that internships aren't just for college kids anymore.
"The benefit of an internship is the hands-on experience in a job setting," says Northeastern University coordinator of career counseling David Helfand. "Then you'll have a better knowledge of what you're headed for."
When you're making a leap from one career path to another, knowing what you're getting into makes the jump less scary. Thirty-eight-year-old Melissa Townsend probably wouldn't have considered switching from urban planning to public radio if she hadn't been laid off from her job last year. By her midthirties, she had already earned bachelor's and master's degrees, and followed two career paths: first in elementary-school education and then in community organizing.
Growing up in New Jersey, Townsend rarely tuned in to NPR, but by the time she finished graduate school, she'd become an intellectual news junkie. On a whim in 2005, she applied for an internship with WBEZ's local news program Eight Forty-Eight. She didn't land the gig then but two years later, after she lost her job, she did score an internship with Third Coast International Audio Festival, an annual radio conference and weekly WBEZ program.
"I sat on my bed and e-mailed [all the producers from the Third Coast Festival] who were in Chicago. We had drinks [to talk about breaking into the field], and that's how I got my in."
While she learned all about attuning her ear to high-quality radio, Townsend wanted more hands-on experience after the summer ended. She signed on for a second internship with WBEZ's news desk, where she reported as many as four stories a day over the course of six months. She also decided to take on any freelance jobs that WBEZ offered rather than waiting tables in order to fully focus on radio.
"It was interesting because I've led a national coalition, I've hired and fired people, but it's like, well, who cares? That wasn't important in terms of learning skills I needed to do radio," Townsend says. "It was hard sometimes, but I kept reminding myself that I have goals I'm trying to achieve."
As luck would have it, an employee was going on maternity leave at the end of Townsend's internship, and she landed a full-time position as a temporary producer of Chicago Matters, a series examining the impact of issues such as violence and religion on the local community. "Sometimes I thought it was insane to make a career switch into radio," she says, "but it made sense for me."
Unlike Townsend, 30-year-old Robert Cole Manis started off in the field he was interested in pursuing: the music industry. He just took a semicircuitous route to arrive at his sweet spot.
In addition to working odd jobs at cafés and retail shops in Chicago and Oregon, Manis worked mostly in audio engineering, which he studied in college. By the time he lost his position at a staging company in Chicago last winter, "it felt more like a job than a career." In the meantime, he had already started working on an independent project collecting obscure punk songs from the '70s and '80s.
He approached local musician and artist Steve Krakow with the idea of featuring deceased punk artist J.T. IV in his Reader comic-strip series, The Secret History of Chicago Music. Subsequently, Krakow and Manis curated an album of J.T. IV's undiscovered music under Galactic Zoo Disco, a Drag City side project spearheaded by Krakow. That experience inspired Manis to pitch a second record to Drag City on the band Death. The album was a huge hit, garnering a two-page feature in The New York Times and leading Manis to the realization that he wanted to start his own record label.
Because he didn't know much about the business, he hounded the folks at Drag City for a job. They didn't have any openings, but they suggested an internship. Now he works at Evanston record store Vintage Vinyl five days a week and spends his Mondays at the label learning the ins and outs of the music industry. To make up for his day of working for free, he's selling some of his record collection online. Plus, he's producing his own label's first album, a vinyl re-release featuring local musician John Bellows.
"[Interning] is just like going to school," Manis says. "I don't care that I'm not getting paid because I just want to know all I can."
Jason Tinkey, 31, expresses a similar sense of purpose with his unpaid internship. Like plenty of folks, he spent the majority of his twenties bouncing from job to job. But when he was ready to focus, he looked to a subject that had always fascinated him: maps. Realizing he could make a career out of his hobby, Tinkey enrolled at Northeastern Illinois University to study cartography.
More than halfway through his schooling, Tinkey spent six months this past year getting help from a career counselor, researching online and networking with people in the field to find the right organization to develop his skills. Eventually he decided to work on geographic information systems and transportation planning at the Active Transportation Alliance. Because his time is limited—he divides his week between classes and work as a florist and record buyer—he made sure to spell out to his boss exactly what he wanted to gain from the internship.
Working mostly with other interns nearly ten years his junior, Tinkey says he felt a little out of place at first, but quickly concluded his age made no difference…except in a positive way. He feels more focused and knows why he's there. "When I was 22, I didn't know what I was doing," Tinkey says. "I have a lot more ideas of what's going on now."