Kasia Tarczynska promotes immigration-law changes
A young Polish immigrant in Chicago promotes immigration-law changes.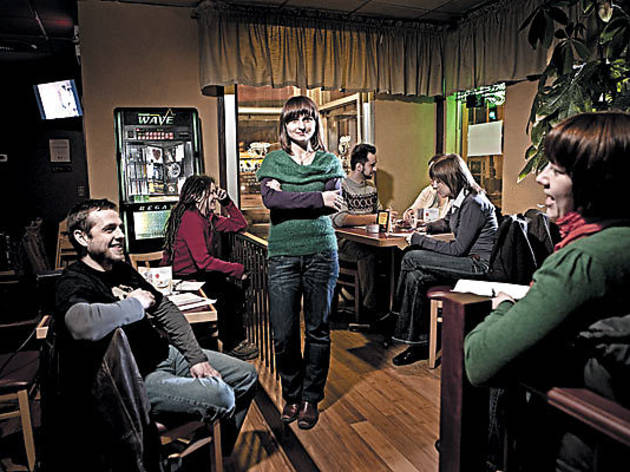 "We face the same problems that the Latino community faces, like people being deported or mistreated," says Kasia Tarczynska, 27, a full-time student at the University of Illinois at Chicago. "But nobody wants to talk about it." One incident, the case of Polish-born immigrant Tony Wasilewski, inspired Tarczynska, Monika Starczuk and Paulina Marek to form the Young Polish Initiative in 2007. Wasilewski was three months from getting his green card when his Polish wife, Janina, was deported. He has been fighting to get her back ever since and even testified before Congress in 2007.
The YPI, now seven members strong, regularly meets around the red wooden tables at CafeYA (4801 N Milwaukee Ave, 773-205-7300), where the neon-green jukebox plays rock and synth-pop above the chatter of conversations in Polish. A cozy Jefferson Park bar and café strewn with magazines, it serves up coffee, cake and Lech beer. Located around the corner from Polish community mainstay the Copernicus Center and across the street from a taqueria, it stands at a symbolic intersection in the city's Northwest Side. Poles are still Chicago's second-largest ethnic minority (after Mexicans), but they aren't voting as often or in as concentrated blocs, so they aren't politically represented relative to their size. As generations of Poles assimilate, their communities and political voice become less unified. "Neighborhoods like Ukrainian Village or Bucktown were totally Polish," says YPI member Monika Tietz. "Yeah, we made those neighborhoods cool," Starczuk jokes. "Then we moved out."
Tarczynska, a small, quietly confident woman peering out from underneath brown bangs, exemplifies a new generation of Polish immigration. She was born in Lublin, Poland, on December 13, 1981, the day the government declared martial law in response to the Solidarity movement—her mother, a member, was arrested a few days later. But she says her contemporaries don't know much about the history surrounding her birthday. While older generations of Poles came to escape communism or World War II, by the time Tarczynska entered the United States in 2002, to study at Mercyhurst College in Erie, Pennsylvania, immigration was about opportunity. "My generation, we don't really remember communism," she says. "I was raised in capitalist times. We look more to the future, how to get good jobs and careers."
When Tarczynska returned to Poland for a year in 2007, she noticed changes in her homeland. Since Poland joined the European Union in 2004, the economy has improved and a new avenue for legal immigration to European countries has opened. Many Poles now forgo a move to the U.S., a decision reinforced by our economic slump. "I was uncertain about [if I could be successful in] Poland when I went back," she says. "But then I saw how there are good opportunities [there] if you work hard."
As they sip glass mugs of tea, the group members discuss the changes they want to see for Poles in the U.S., including immigration laws that give illegals a path to citizenship. Tarczynska will be in a limbo of her own in 2010, when she will earn her master's degree in urban planning and lose her student visa. In order to legally stay here, she could find an employer to sponsor her or she could get married. The last point draws friendly laughter from her colleagues. But it's a serious issue, since her avenues to stay legally and put together a postgraduation life in the States all depend, in some part, on other people. Still, the upswing in the Polish economy and Poles' new freedom to move around the European Union allow Tarczynska to take the instability in stride. "My future isn't as simple as I'd like it to be," she says. "I might go to Poland or even somewhere else in the EU. But I'm more relaxed about my future now."