Keira in costume
Knightley just can't resist that period garb. But which outfits get our knickers in a knot?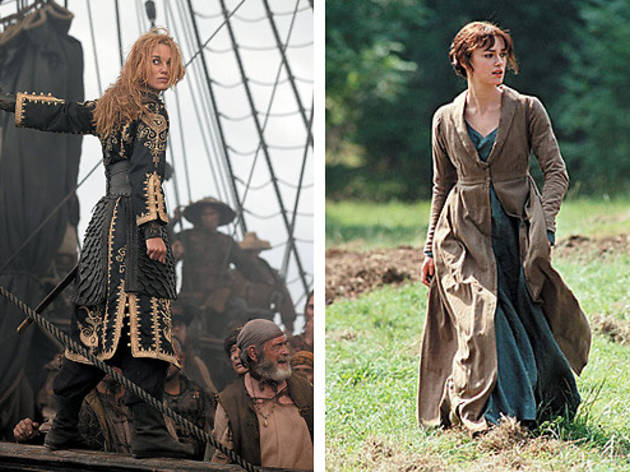 We look back at some of the frocks that have made Keira Knightley's career, ranking them from 1 to 5 on historical accuracy and hotness.
Princess of Thieves (2001)
In this made-for-TV flick, Knightley plays Robin Hood's daughter, who follows in her dad's rich-robbing footsteps.
Authenticity: 2. It's sort of authentic, inasmuch as people in the Middle Ages did wear pants and shirts. Most of the other costuming details seem to come straight out of Robin Hood: Prince of Thieves, which isn't exactly the go-to film for historical accuracy.
Hotness: 2. Knightley's heavy wool getups are bulkier versions of every Robin Hood costume you've ever seen.
Pirates of the Caribbean (2003, 2006, 2007)
The daughter of a regional governor becomes a she-pirate. Some other stuff happens, too.
Authenticity: 4. The outfits are pretty accurate to the era, but come on, did pirates really wear scarves as headgear?
Hotness: 4. Whether in fussy gowns or haute couturechinoiserie, Knightley wears it well.
King Arthur (2004)
Knightley plays Guinevere to Clive Owen's Arthur in this attempt—and we do mean attempt—at a more historically accurate take on Camelot.
Authenticity: 2. Don't get us started on the use of crossbows centuries before they arrived in England.
Hotness: 4. If you rate an outfit's sexiness by how little there is of it, then all we can say is: Knightley wears an outfit made of leather straps. Hot damn.
Pride & Prejudice (2005)
The arrival of an eligible but rakish gentleman in the neighborhood sets everyone aflutter, except Elizabeth Bennet. Guess who falls in love?
Authenticity: 3. The costumer opted for 1830s styles instead of roughly 1800, when Austen set the story. ("Where are the empire waists?" one friend wailed.)
Hotness: 3. Some find Knightley sexy in a flowy linen dress with a plunging neckline. Others say the emphasis on her collarbones make her look oddly proportioned. We split the difference.
Silk (2007)
A 19th-century French silk trader ignores his wife (Knightley) and falls for a concubine.
Authenticity: 4. Okay, a French woman in the 1860s probably would wear those flouncy getups.
Hotness: 2. The blousy fit of the summer dresses, the stiffness of the colder-weather outfits, and the off-color choices (Knightley with honey-blond hair in lilac frocks? No.) all conspire to make her look frumpy. Frumpy, for God's sake!