Kids' budget buys
TheGreenMama.com find green and cheap kids' stuff.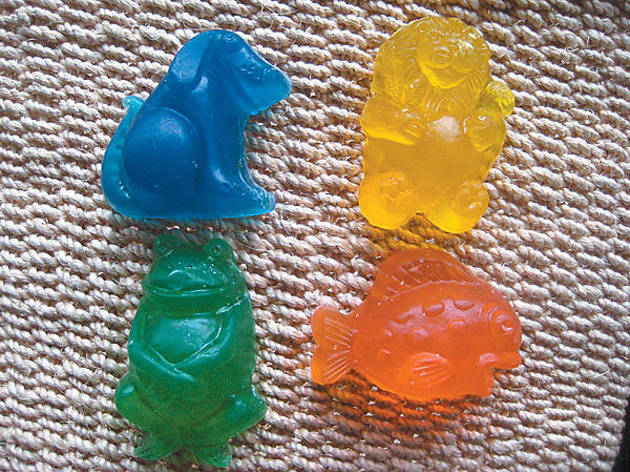 Wet bag for cloth diapers, socks and towels by Warmies (1), $10 at Bellybum Boutique. Pick up this stylish bag made by work-at-home moms and get greener diapering choices at this Northwest Side boutique. Lined with waterproof fabric, the bags can handle moistened cloth wipes, used cloth diapers, wet clothing or swimsuits. Or just fill it with ice to use it as a boo-boo bag. 4347 N Lincoln Ave, 773-868-0944.
Critter soaps (2), $6 at Healthy Green Goods. Kids can suds up safely with Eleanor Reily's pack of two one- to three-inch soaps, perfect for small hands and handmade in Chicago without chemicals, dyes or fragrances. Little ones will have fun in the tub with colorful animals while sensitive skin is soothed with plant-based ingredients. 702 Main St, Evanston, 847-864-9098, healthygreengoods.com.
Organic grub at Newleaf Natural Grocery. Most American families spend more than $100 per week dining out, according to the USDA. Instead, save big and brighten up the winter table by making a kid-friendly, orange-themed organic meal from this affordable Rogers Park grocer. Plate kids' favorites such as Annie's Organic Mac and Cheese ($2.99), organic sweet potatoes ($1.59/lb), organic carrots ($1.09/lb) and organic orange slices ($1.69/lb). 1261 W Loyola Ave, 773-743-0400.
Wooden building sticks and bowling set by Camden Rose (3), $10 and $8 at Tink-Tinks. Keep lead and chemical-leaching phalates commonly found in cheap paint and plastic, respectively, out of your toy rooms with these untreated wooden toys made in Ann Arbor, Michigan. 1104 Davis St, Evanston, 847-869-6405.
Set of Kids Bamdino bamboo utensils (4), $9 at MightyNest. Help your family pack zero-waste lunches with these cute, reusable utensils. Order online at mightynest.com; option to pick up at the online store's office at 1570 Oak Ave, suite 103, Evanston, 847-905-0567.
While eco-minded families turn to TheGreenMama.com for tips, the org's education director, Cecelia Ungari (right), also a professional doula, leads lively, interactive workshops on green parenting around the city, including at the Notebaert Nature Museum.
Shopping
|
Dining
|
Drinks
|
Entertainment
|
Family Activities
|
Kids Shopping
|
More cheap stuff