Last-minute getaways
Ditch your family during the holidays by taking an impromptu trip.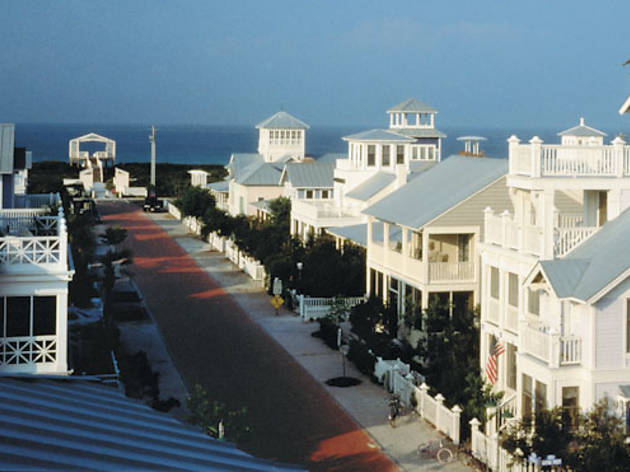 Ditch the fam with a last-minute holiday getaway.
Sunshine state of mind
In the winter, temps on Florida's panhandle (a.k.a. the Emerald Coast and, less kindly, the Redneck Riviera) hover in the low 60s but the sun still shines (trust us, it feels heavenly). Take a morning stroll along Destin's famous white sand beaches, marvel at the architectonic splendor of the planned community of Seaside (where The Truman Show was filmed) and enjoy a catch straight from the Gulf at the beloved Fish House in Pensacola. For romance, drive four hours east to Apalachicola, a splendid Panhandle town in Florida's Forgotten Coast where historic charms and oyster bars abound. Fly to Pensacola International Airport from Midway.
By Georgia!
The humidity is downright stifling in summer, but Savannah, Georgia, and the surrounding low country are temperate (think high 50s, low 60s) and less rainy in December. Use the Thunderbird Inn, a restored midcentury gem, as your base for exploring Savannah's historic district, which includes rows of 18th- and 19th-century mansions and beautiful squares filled with Spanish moss. Take a midnight ghost tour (they're kitschy but worth it) and stroll the shops of Savannah's trendy Broughton Street. At night, hit nearby Tybee Island's Crab Shack, where you can nosh on a delicious low-country boil for just $16. Fly to Savannah/Hilton Head International Airport from O'Hare.
Get lost
About a half-day's drive beyond wine country lies Northern California's fabled Lost Coast, a still untamed area of Wild West towns, centuries-old redwood forests and rugged coastline largely off the beaten path—especially in winter. Pack sensible layers (the average daily high is 55 in December) and a sturdy umbrella and begin at the oceanfront B&B Lost Whale Inn in Trinidad. Idle for a few hours in the Victorian village of Ferndale, then follow Mattole Road out of town for a wild ride through untamed wilderness. Top off your journey with some driving and hiking through and around the splendid Avenue of the Giants just south of Eureka. Fly to San Francisco International Airport from O'Hare.
---
Family survival tips By Marissa Conrad
Give a kid a Nintendo DS game, and he won't bother you for hours. Buy 'em gently used for as low as $4 at People Play Games (3268 N Clark St, 773-883-8813).
Skip out for part of the day to volunteer—not even your mother-in-law can argue with that. While many slots at dinners for the hungry are gone (the Greater Chicago Food Depository recommends booking your spot at some shelters in August!), other activities, like visiting a nursing home to spend time with the residents, may have openings. Visit holiday-project.org for more information.
Pack a flask. The Collins Smart Phone Flask looks like an iPhone; Aunt Cathy will never know the difference. $4.59 at Collins Brothers (2113 Greenleaf St, Evanston, 847-864-2226).