Late-night entertainment and enlightenment
ChicaGo editor Jake Malooley explores witching-hour cinema and spirituality.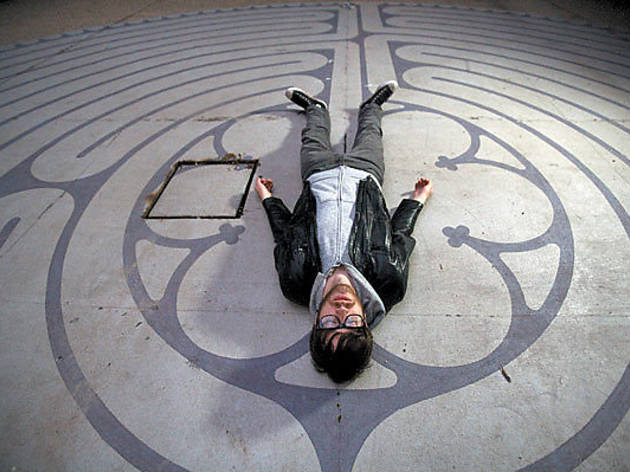 Late-night movies, music and meditation give ChicaGo editor Jake Malooley an after-hours awakening.
Midnight Expecting a buttoned-up cinephilic experience, I arrive at Facets Night School, a weekly insomniac spin-off of the regular program of screenings and lectures at Facets Multimedia (1517 W Fullerton Ave, 773-281-9075, facets.org).
12:15am My expectations are shattered when the night's lecturer, Facets catalog writer and videotheque staffer Lew Ojeda, makes a surprise entrance, tearing through a tissue-paper cake to introduce the fabulously manic 1987 Britcom Eat The Rich. (Stay tuned to the Night School schedule for upcoming crowd-pleasers, including Harold and Maude, Big Trouble in Little China and Viva Las Vegas.)
1:30am In a rare moment devoid of laughter and Motörhead (whose music dominates the film), I hear what sounds like a black bear being choked.
1:33am I realize the large mammal struggling to breathe is just the snoring dude in front of me. I poke him with my index finger several times, which stops the rhythmic honking but does not wake him.
2:10am The film ends with scenes of cannibalism, and now I'm hungry! Hoofing it north along Ashland Avenue, I manage to dodge every pile o' puke between Fullerton and Belmont. Whoa, what did that guy eat—a bag of Skittles?
2:26am I come upon what looks like a triage for drunks and know I've arrived at Late Night Thai (1650 W Belmont Ave, 773-327-9945). Outside the mostly takeout joint—it opens at 9pm and closes at 5am—a couple of booze-addled bros howl "You've Lost That Lovin' Feeling" and lurch into a totally-not-gay hug. Inside, the line is long, the skirts are short and everyone orders pad thai.
3:10am My blood-alcohol level still hovering at a pitiful 0.0, I hail a cab to the Green Mill (4802 N Broadway, 773-878-5552) for cocktails and live music. (It's after 2am, so entry is free. More bills for booze!) On stage is Sabertooth, four guys who've perfected the art of jazz face during a 16-year residency at the Mill—organist Pete Benson perpetually appears seconds away from orgasm.
4am The conversational union organizer perched next to me marvels at our petite server's superhuman ability to down scores of customer-bought shots. "I've only been here for an hour," he says, "and I bought her three!"
4:30am My head is swimming with bourbon and soda as I exit the Green Mill and hop in a cab. Seeking peace and quiet, I make for St. James Cathedral (65 E Huron St, 312-787-7360) and its outdoor prayer labyrinth, a winding pattern that serves as a tool for meditation.
5am Balancing on unsteady legs, I reach the center (enlightenment, perhaps?), lie down and, like the homeless man on a nearby bench, fall asleep.
5:10am The brightening sky and cacophony of bird chirps pry my eyes open. I need coffee—lots of it. Taxi!
5:30am A doting waitress at Huck Finn Restaurant (3414 S Archer Ave, 773-247-5515) fills my bottomless cuppa and delivers a fresh plate of doughnuts. I want to read the morning paper, but it isn't due to arrive for another half-hour.