Liam Hayes (a.k.a. Plush), singer-songwriter
Big in Japan and the U.K.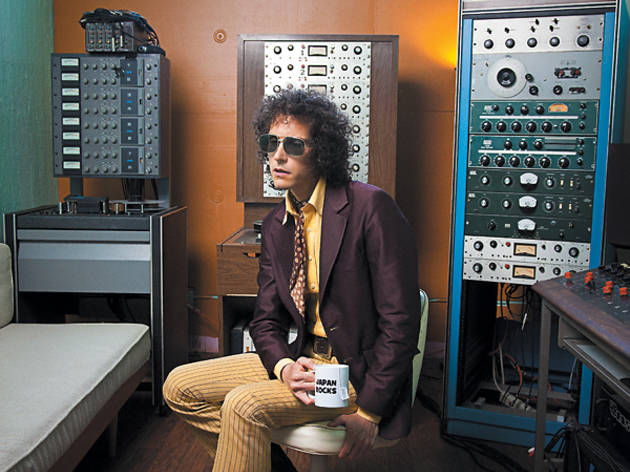 Liam Hayes of the soulful soft-rock band Plush stands out in a crowd. He frequently dons subtly flared pants, a wide-lapelled jacket and ascot, and he sports a wild brown 'fro.
As a musician, however, the singer-songwriter has maintained a less visible, if not enigmatic, presence in Chicago, considering he's lived here all of his life and has been releasing records since the mid-'90s. In Japan, he's received a bit more fanfare; one admirer even presented him with a doll, handmade in his likeness.
How Hayes can inspire Plush dolls but remain virtually unknown in his hometown comes down to scarcity: not enough money, not enough albums, not enough touring. His first single, "Three-Quarters Blind Eyes," with veteran indie label Drag City (and licensed to Domino in the U.K.), could have been his big break in the mid-'90s. A slew of major labels (which Hayes won't name) courted the fledgling artist, but Hayes instead opted to stick with Drag City and Domino when it came time to license his first full-length, 1998's More You Becomes You.
"If you want access to [major-label] resources, your [ideas] have to converge," Hayes says. "If I have a big idea for a record, and the company I'm working with says you can do it for however much we have in our till, that's enough for me to get through one-fifth of the record. I don't want to make that kind of record."
The kind of record Hayes wants to make is one that features as many as 30 seasoned musicians and requires dozens of hours of studio time to perfect. To that end, it's also the kind of record that requires a lot of cash (more than most indie labels can afford).
When licensing his second album, Fed, became too expensive for Drag City, Japanese label After Hours, which had helped Hayes put on shows in Japan to promote his first album, stepped in and released it exclusively in Japan in 2002. Even though Rolling Stone named Fed an album of the year, Hayes couldn't find a label to release it domestically.
A few years later, British label Broken Horse re-released Fed, and Hayes made the album available for download for a fee on his website. By the time Hayes was ready to license his third full-length, Bright Penny, in 2009, he went back to Broken Horse and After Hours.
Neither Hayes nor his labels would divulge album sales (Broken Horse's Alun Jones commented they were "not enough considering how great Liam and his records are"), though Hayes offers that he's filled venues in Japan four times the size of those he plays in the States. "It's not a numbers sort of thing," Hayes says. "It's the level of continued interest and dedication to still following the music. People still write about it [in Japan], and people still come out [there] even when there's not a lot of big news [such as a new release]." Jones mentions that one Japanese woman followed the Autumn Defense/Plush tour to four of the seven shows, spending all her savings in the process.
For the most part, Hayes's performance schedule has mirrored his record releases: few and far between. He toured five cities in Japan after Fed, and then toured cities in the U.K. with the Broken Horse re-release and after Bright Penny. "I think [not touring enough] might be a big part of [the problem]," he concedes.
In the past few months, however, Hayes has booked a rare spate of live gigs in Chicago, including at Lincoln Hall, Reckless Records and a June residency at the Hideout. "It has everything to do with the songs I wrote," he says. "They're really well-suited to playing in a live setting." He's also working on a new album, which he plans to finish in the next year.
So far, Hayes's emphasis on making music his way has perhaps been at the expense of making it big. "I'm inclined to think now that what I'm doing is following my instincts. It's not like I'm off the grid," he says. "The first thing I care about is writing a good song. Otherwise, what does it matter?"
Plush plays the Hideout June 6, 13 and 20.