Lies we tell ourselves
We rely on these classic Chicago fibs to make the city more livable.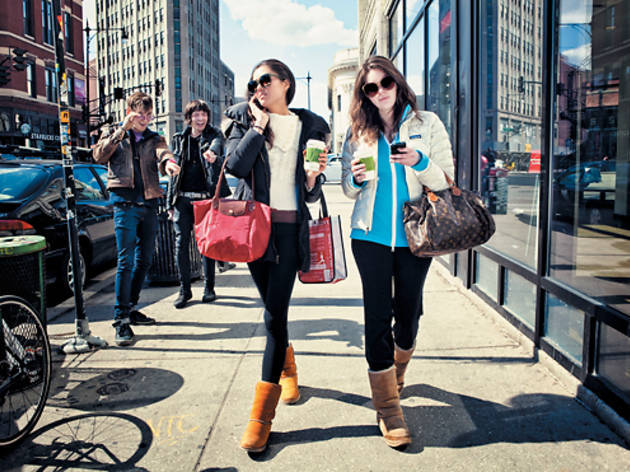 "This is our year."
Repeat a lie often enough and you start to believe it. But sorry, Cubs fans, the fact remains: Our lovable losers have the longest championship drought on the continent. Self-delusion has gotten us nowhere—let's kick off the season with a truer prediction: We're gonna choke!
"Spring starts in March."
If by spring you mean the revelation of litter and dog shit that were formerly cloaked under piles of snow, then yes. But March weather stats for Chicago are hardly springlike: The average high temp is only 47 degrees, and average days of snowfall are 4.6, yielding an average of 6 inches.
"We're okay with being the Second City."
Chicagoans love to go off on why they would never move to New York. But let's be honest: Aren't we all secretly a little peeved that just about every overseas fashion brand launches its first boutique in NYC? That most restaurant trends start there, then eventually trickle to Chicago? That our most talented artists and musicians inevitably leave to make it big in New York? Let it out; it's okay to be a bit jealous. At least we don't live in shoe boxes.
"UGGs and puffy coats are totally in style."
Scottish adventurer and celebrated smart-ass Sir Ranulph Fiennes famously said, "There is no such thing as bad weather, only inappropriate clothing." We'd argue that there is such a thing as bad—in fact, beastly—weather. But he's right on one count, and that's why fugly $200 boots and a North Face sleeping bag–cum–winter coat are our de facto winter uniforms.
"Wicker Park is still cutting-edge."
Wicker Park circa the 1990s: The Smashing Pumpkins played a secret show at the Double Door under the name Audio Vanguard Association and Rainbo Club was an obscure dive. Wicker Park today: sports bars, chain stores, fro-yo shops and baby boutiques. Some change is good (we'll trade Pontiac Cafe for tacos at Big Star), and there are still plenty of reasons to visit, but its rep as the hippest 'hood is as over as the Pumpkins.
"This is a green city."
Chicago may be a leader in green roofs (there are more than 400 in various stages of development and our own City Hall boasts a 20,300-square-foot rooftop garden), but we're breathing in more pollution than other cities. The outdated Crawford and Fisk coal-fired power plants (in Little Village and Pilsen, respectively) are two of the oldest and largest single sources of deadly particulate–forming air pollution in the country. The EPA wants them upgraded, but no dice as of yet.
"It's easy having a car in Chicago."
The average auto-insurance rate for Chicago residents is $1,290 per year. Factor in your Illinois license and registration ($99), City of Chicago sticker ($75) and residential parking permit ($25), and the annual tab's raised to $1,489. That's not including variables like car payments, meters ($1.50–$5 per hour), gas (well over $4-per-gallon), a reserved spot, tickets and repairs. The annual cost for a CTA monthly pass: $1,032. Now that's easy.
"I like Midwesterners. They're all so nice."
If nice means knowing your neighbors or chatting up strangers while waiting for your dry cleaning, we have room for improvement. And actually, only two Midwest cities made the top ten of Travel + Leisure's 2009 list of friendliest people: Minneapolis/St. Paul and Kansas City (Chicago ranked 19). Go figure.
"This is a postracial city."
While Illinois leads the nation in electing African-Americans to statewide office, we're actually the third most segregated urban area in America. Among the reasons for the concentration of blacks on the South and West Sides, and whites to the North: historical (and now illegal) housing and lending practices, the concentration of impoverished blacks in public housing towers and the Interstate Highways Act of 1956, which resulted in expressways like the Dan Ryan being routed through African-American neighborhoods in Chicago, further dividing black and white enclaves.