Louisville, KY
Midwestern friendliness and Southern charm intersect in the Bluegrass State's most happening city.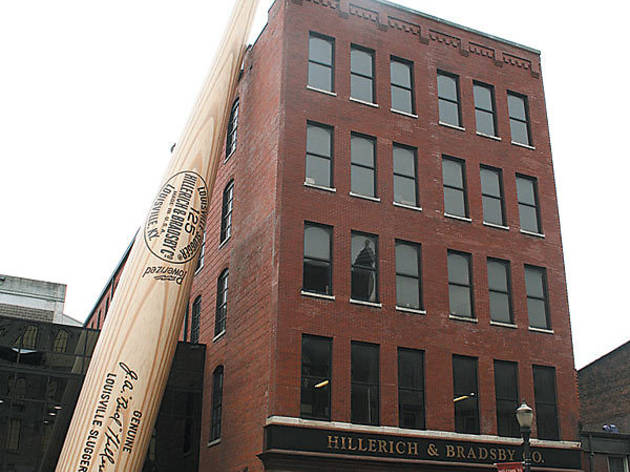 It's fitting that Louisville's most anticipated and frenetic event—the annual Kentucky Derby, Saturday 3 at Churchill Downs (KentuckyDerby.com)—only lasts about two minutes. That way, this easygoing city on the river can go back to doing what it does best: winning visitors over with its indelibly Southern charms. An energetic gallery scene, an unquenchable thirst for bourbon and an enviable park system designed by Frederick Law Olmstead prove that even post-Derby, the city always puts its best hoof forward.
Both the historic Seelbach (500 Fourth St at Guthrie St, 502-585-3200, seelbachhilton.com; rates start at $219) and Brown (335 W Broadway at Fourth St, 502-583-1234, Brownhotel.com; rates start at $139) hotels remind visitors and residents alike that Louisville is a city with a past, and both are respectable—if not placid—places to lodge for the weekend. Meanwhile, 21c Museum Hotel (700 W Main St at Seventh St; 502-217-6300, 21chotel.com; rates start at $199) is a one-of-a-kind combination design hotel and museum dedicated solely to living artists, and it's about the sexiest spot in the South to rest your booty. Every inch of the place contains over-the-top fodder for the eyes, including art installations in the floors, elevators, halls and alleyways. Rooms are adorned with an iPod, a 42-inch high-def flat-screen TV, complimentary Wi-Fi and red plastic penguins (you'll know them when you see them).
A car is essential in Louisville, but points of interest are all within a few minutes' drive from one another. Downtown is compact and bustling, especially along Main Street with its combination of theater, museums and riverside attractions. Nearby East Market Street teems with galleries, funky home furnishing stores and wine bars. But the undisputed king of Kentucky cool is the long and rambling Bardstown Road. Here you'll find a smashed-together mix of Irish and dive bars, upscale restaurants, junky thrift stores and hipster hangouts (pictured). Only Frankfort Avenue—with its burgeoning collection of antique shops, cafés and bookstores—threatens to give it a run for its money.
The food at the big, brash and gaudy Lynn's Paradise Café (pictured, 984 Barret Ave, 502-583-3447) is both yummy as hell and an ideal antidote to your worst hangover. We recommend ordering up a sweet duo of shared plates: the thick buttermilk pancakes stuffed with blueberries and bacon and the more savory BLT with home fries. Proof on Main (702 W Main St at the 21c Museum Hotel, 502-217-6360) both offends and delights with its mixture of modern art and true-blue North-meets-South upscale cuisine. On the one hand, a guest at the table to our left accused the homoerotic photography lining the walls of being "too one way," while on our right New York Times theater critic Charles Isherwood thought his grass-fed bison tenderloin was "a little fatty." We loved it all, including the chickpea and country ham fritters appetizer, which is perfect for sharing.
Boozehounds will be in heaven at the many neighborhood dive bars where sports, live music, karaoke and movie nights abound. The Poor Haus (1481 S Shelby St at Burnett Ave) in Germantown is where low-lifes and hipsters swill beer together with aplomb. Likewise the vintage-y Seidenfaden's Café (1134 E Breckinridge St, 502-582-9217) serves up quintessential dive-bar shenanigans (we watched some goober nearly blow off his hand lighting fireworks outside). Third Street Dive (440 S Third St at Muhammad Ali Blvd, 502-587-0706) offers more of the same, but it's smack in the middle of downtown and riffs cheekily on the name Fourth Street Live!, a nearby strip of stand-and-model tourist bars.
Don't end your weekend before giving yourself some culture. The Louisville Slugger Museum & Factory (800 W Main St at Eighth St; 877-775-8443, sluggermuseum.org) offers fascinating insight into the making of the official bats of Major League Baseball, as well as the history of the game. Alternatively, you can blow your own glass or check out the exhibitions at Glassworks (815 W Market St at Eighth St; 502-584-4510, louisvilleglassworks.com). If you plan your trip around one of its rooftop parties—featuring eye-popping views of downtown and the metro area—consider it a weekend well spent.
THE TAB

Two nights, two people
Gas fare $80*
+ Hotel $398
+ Meals $210
TOTAL $688

*Travel time 5 hours by car.
If travel's not on your mind, you can bring a little of the Derby home with this Mango Mint Julep recipe (adapted from Citizen Bar, which will be serving them all day on Derby Day).
Two or three slices of fresh mango
1.5 oz Makers Mark
4 leaves fresh mint
1 teaspoon sugar
4 oz. soda water
splash of 7 up

* Two days before serving drink, combine Makers Mark and mango slices in a jar and store in a cool, dark place. (Discard mango and strain rum when ready to use.)

* When ready to serve, gently muddle the mint with the sugar in a silver Julep cup (or whatever glass you're using). Don't go overboard. Add the rum and the soda water, and top off with 7up. Serve. Or drink. Or both.