Lust: Slut strut
Pace yourself for a steamy saunter through River North.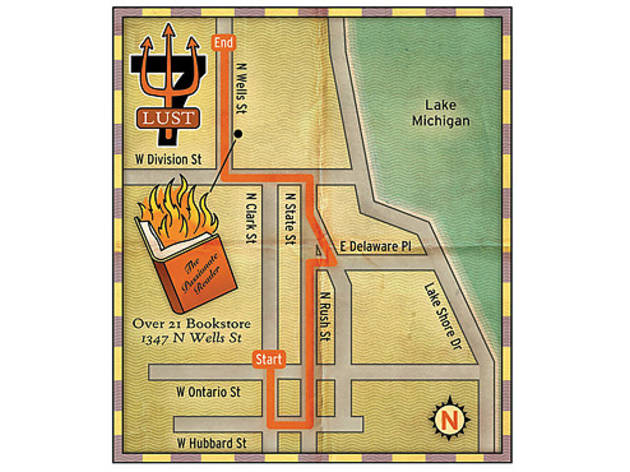 TIME 50 minutes
START Clark and Ontario Streets
FINISH North Avenue and Wells Street
MILES 2
At the intersection of Clark and Ontario Streets, out-of-towners gawk at music memorabilia and gulp down Happy Meals. But in this same spot more than 50 years ago, visitors of a hornier variety (namely, single men) sought out a different kind of happy meal. "It happened to be the largest intersection for vice in the city," says Ken Melvoin-Berg, who coauthored Weird Chicago (Whitechapel Press, $20) and leads tours of the same name. While the area's seedy red lights have been replaced by the gaudy neon of family-friendly attractions like the Hard Rock Cafe, Portillo's and the Rock 'n' Roll McDonald's, the intersection is a reminder that Chicago isn't afraid to shake its hips and say, "Hey, baby."
From Clark and Ontario, walk two blocks south on Clark to Fadó Irish Pub (100 W Grand Ave, 312-836-0066), where the slurping sounds come from patrons sipping beer. But that hasn't always been the case. "In 1957, it [was] the site of the Shore Club, a strip club," Melvoin-Berg says. "The strip club, it was said, was only a front for a syndicate-owned prostitution ring." Mayor Richard J. Daley revoked the club's liquor license in 1959, but you can still fondle the curves of your wine glass.
Begin your own foreplay by walking two more blocks south on Clark to sex shop Erotic Pulse (418 N Clark St, 312-661-1894) and Hubbard Street Books (109 W Hubbard St, 312-828-0953) around the corner. These purveyors of sin cater to a crowd that's equal parts lonely men, horny couples and drunken bachelorettes who stumble in after a night of boozing. The former charges a $1 browsing fee and contains video booths where guys can spill their seed to flicks like Tranny Surprise and Chicks and Salsa 5. Both are heavy on mags, toys, DVDs and novelty items.
Walk one block east on Hubbard to delightfully sleazy sex shop Te'Jay's (53 W Hubbard St, no phone), where a gay dude on the down low might beckon you into a video booth for a quick wank (although Illinois law prohibits such behavior, ahem). Straight men come here, too, and can often be caught with hands in their pockets while perusing a wide selection of DVDs and porno periodicals (Campus Snatch, anyone?).
But if you're looking for a more elegant option for getting your marbles off, walk east on Hubbard one block, turn north on State and continue another 11 blocks until you reach Frenchy's (872 N State St, 312-337-9190), a sex shop that offers more of the same hanky-panky but outclasses the others thanks to an incredibly polite staff, slick hardwood floors and DVDs categorized according to porn star. From here, hang a right on Delaware Place and turn left at the next block onto Rush Street. Now you're in the heart of the Viagra Triangle, so named because at its many bars and restaurants such as Jilly's (1007 N Rush St, 312-664-1001) and Gibson's Steakhouse (1028 N Rush St, 312-266-8999), the flaccid pee-pees of the rich and middle-aged are miraculously resurrected thanks to gold-digging ladies.
Continue two blocks north on Rush and head west on Division Street, where the young and horny converge to imbibe and hook up. Perhaps none have done so more famously than Rob Lowe and Demi Moore's characters in About Last Night…. They got their groove on at The Original Mother's (26 W Division St, 312-642-7251). Walk three more blocks west on Division and turn north on Wells Street. Seediness once prevailed in manicured Old Town and still lingers at Over 21 Bookstore (1347 N Wells St, 312-337-8730) and the gay-oriented Bijou (1349 N Wells St, 312-943-5397). Titillation beckons at this vintage porn theater, where you can also stroll through its maze of pathways like "Big Dick Alley" and find glory in one of its glory holes. Finish up the walk with a postcoital puff two blocks north at Up Down Tobacco (1550 N Wells St, 800-587-3696). After a walk this randy, you'll need a release.
WHILE YOU'RE THERE
Tucked away inside the Canterbury Court Hotel, an extended-stay residence facility located where State Street becomes a parkway, Zebra Lounge (1220 N State Pkwy, 312-642-5140) serves up affordable booze to unpretentious Gold Coasters sitting on zigzag-patterned sofas. You can rendezvous under the red lights with your mates while the piano player cuts loose with the Billy Joel.