ManBQue
The men-only meat-lovers' club originated in Chicago.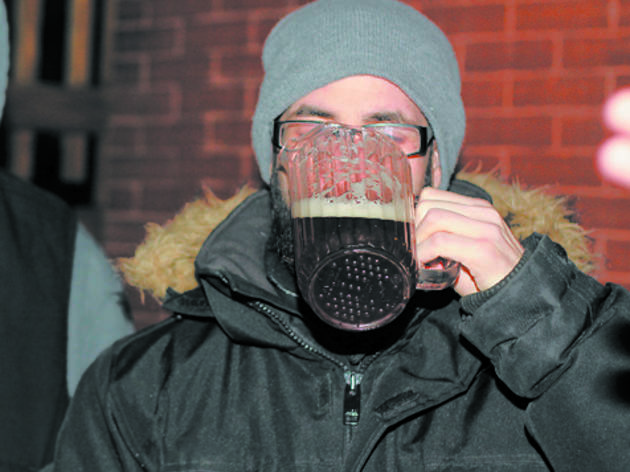 1/3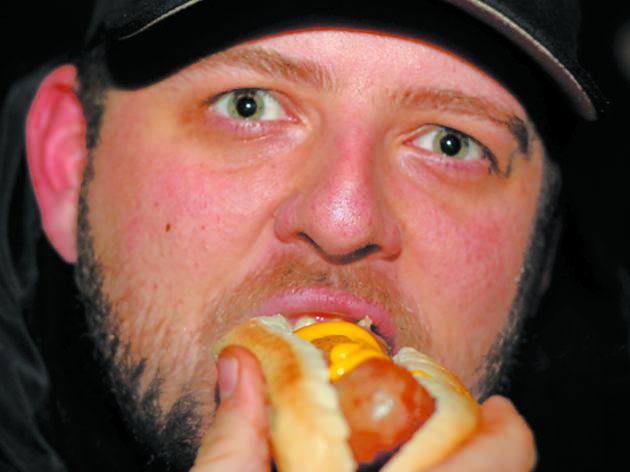 2/3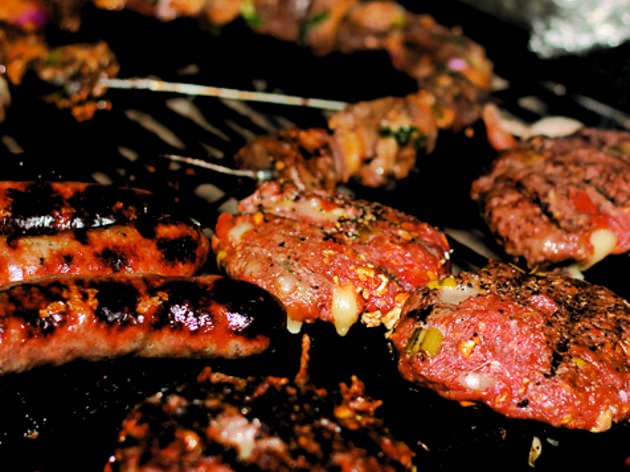 3/3
It started simply enough in Logan Square, when a group of men gathered on Jesse Valenciana's roof.
Long had their wives and girlfriends struck out on their own in the tradition of ladies' night. Now the guys would band together, apart from their female companions, so that men and only men could enjoy the smell of charcoal and the sizzle of fresh meat.
"ManBQue!" Valenciana shouted from the rooftop. A new tradition was born.
ManBQue today is a club where men gather at rotating sites across the city to drink beer, strike up the grill and cook up a piece of meat according to each man's specialty. "It's a very basic caveman ethic to build fire and bring meat, drink and be merry," cofounder Ricky Linus said.
Since its founding five years ago, ManBQue chapters have sprouted in the Western Suburbs, Tennessee, California and Ohio. There are ManBQue hooded sweatshirts, a fledgling catering spin-off and monthly events sponsored by Chicago bars to which women are invited.
At January's monthly "meating" outside a coach house in Humboldt Park, the men hovered around the fire pit and shivered in the snow, like Cro-Magnons during the Ice Age. About 20 joined the feast, which featured pork, steak, hamburgers and venison. Vegetables were as scarce as women. Doug Moring and Garth Bender debated marinating methods. "I like the honey-and-vinegar combo, especially with pork," Bender said.
If ManBQue had official theme music, it would be metal: Slayer and Clutch blared as Bender passed around a six-pack of MGD. Another member, J.B. Carruthers, brought marinated steak kebabs with pineapple to throw on the grill and proudly passed around photos of the 16-point buck he shot this fall in Jackson County, Illinois. The venison jerky that resulted also made the rounds.
When ManBQue began, Linus said, members drew up a list of Fight Club–inspired rules: Men must shout when speaking and exaggerate their stories. Utensils are verboten. Linus said any of these guys could simply go to a bar to socialize, but ManBQue allows them to avoid drinking with strangers and bond over their love of the grill. I got a taste of that link, literally, when Valenciana handed me a half-eaten sausage he'd been chomping and asked me to take a bite. I obliged, then passed off the brat to another guy in the pack of dudes standing in the snow.
At the center of ManBQue are Valenciana and Linus. Both grew up in the Norwood Park neighborhood and attended fourth grade at Pennoyer Elementary in northwest suburban Norridge. Valenciana is tall and lean; Linus is short and stout. Still best friends, both are now bearded like many of their fellow ManBQue men.
One of Linus's carnivore creations was available three nights later at a ManBQue burger-and-beer pairing event at Small Bar in Lincoln Park. Women as well as male nonmembers were allowed in for a $15 all-you-can-eat-and-drink binge. Linus served what he calls his "ghostburger": medium-rare ground sirloin stuffed with Chihuahua cheese, topped with red-pepper flakes and a marshmallow pecan sauce that left an odd candy aftertaste.
"It smells like meat up here. It's amazing," said Adrian Catlos, one of the women attending, as she glided up the stairs at Small Bar. "If I had to give up something, it would be vegetables. I love meat."
The next ManBQue meating takes place Monday 28. For the address, join the club at manbque.com.