McDonald's All-American High School Games
Meet three local high-school basketball phenoms who've got next.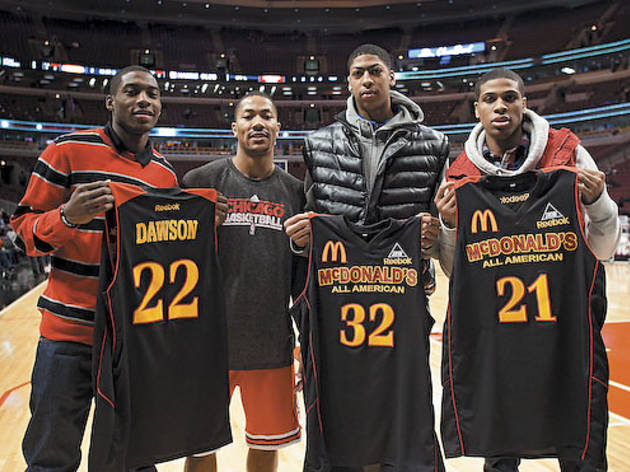 Anthony Davis
Position Power forward, Perspectives Charter Wolves
Headed to University of Kentucky
Why he's the future Derrick Rose He ranks as a top (to some, the No. 1) prospect and dispels the dumb-jock notion with a 3.3 GPA. His parents chose a lesser-known school (Perspectives doesn't have a gym or locker room) for its academic excellence.
Wayne Blackshear
Position Small forward, Morgan Park Mustangs
Headed to University of Louisville
Why he's the future Quentin Richardson With a wingspan of a condor, 7'1" to be exact, this kid sensation and Sun-Times Player of the Year has wowed crowds by mastering all five positions.
Ariel Massengale
Position Guard, Bolingbrook Raiders
Headed to University of Tennessee
Why she's the future Candace Parker Call her Ms. Big Shot: The Gatorade Illinois Girls Basketball Player of the Year's clutch-shooting skills helped her rake in more awards than any mantelpiece can hold, including three state-championship trophies.
Watch future stars in the McDonald's All-American High School Games at the [node:33178 link=United Center;], 1901 W Madison St (800-745-3000, ticketmaster.com). Wed 6:30pm, $10–$127.