Milwaukee road trip: Miller Park
Discover the best eats, seats and tailgating tricks at the home of the Milwaukee Brewers.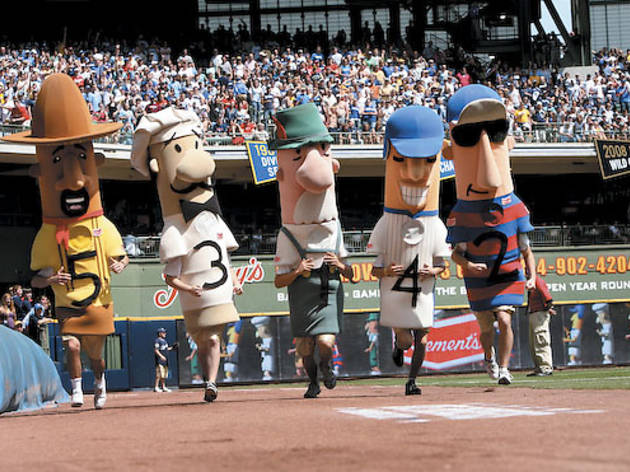 MEET THE EXPERT Chris Gervenak, lifelong Brewers fan and tailgate organizer
Say what you will about Miller Park's (1 Brewers Way) retractable roof (real fans weather bad weather, a Chicago pal once told me)—it ensures the Milwaukee Brewers can always deliver. Even through the 45mph winds tormenting Milwaukee the Sunday afternoon I catch a Brewers/Pirates game with local Brew Crew superfan Chris Gervenak.
Gervenak, 25, is legendary among friends for re-creating the "bacon explosion" for tailgates: A viral recipe in 2009, it's a weave of bacon wrapped around a sausage log filled with crumbled bacon. His more standard-issue snacks, on deck today, are Johnsonville brats, boiled the night before in a broth of beer, bacon and onions, and heated on the grill. We join a bevy of fans in their twenties in the Molitor Lot (Yount Dr and Story Pkwy), where I learn Milwaukee's tailgate staples: forties of Miller High Life, cornhole and a game Gervenak calls "testicle toss": throw two balls connected by a stretchy band, trying to get the contraption to wrap around a ladder rung. But the wind is miserable, so we head inside.
For only $8–$20 a ticket, the bleachers, set smack behind the outfield, offer a surprisingly good view. Bring a towel in case you're in the Kalahari Splash Zone, where mascot Bernie Brewer douses fans with water after every home run.
The crowd roars as Brewers left-fielder Ryan Braun hits a triple. I'm more interested in tripling down on chorizo dogs, sold at almost every concession stand. But Gervenak insists I hit Third Base Bar, outside of section 129, to try the park's latest offering: French-Canadian specialty poutine, a heart-stopping basket of fries and cheese curds doused in beef gravy. My final sausage fix comes during the sixth inning, when mascots in chorizo, hot-dog, bratwurst, Polish- and Italian-sausage costumes race around the bases. As I watch their goofy jogs (Italian for the win! And ultimately the Brewers, too, 9–6), I learn the Cubs game got called off due to "inclement weather." Score one for the roof.