Milwaukee road trip: Milwaukee Public Market
With your hosts, chefs Matt Haase Kurt Fogle of Distil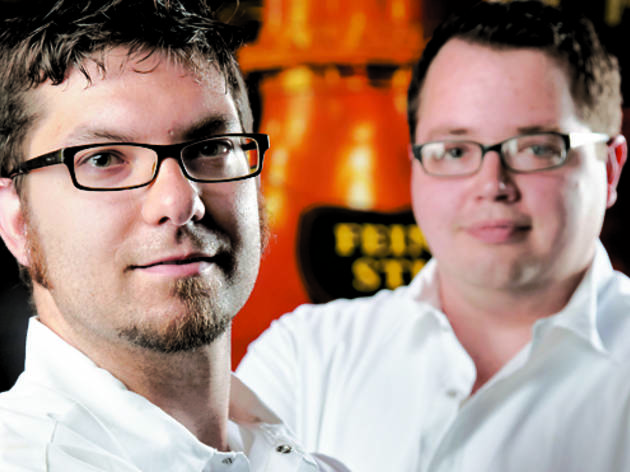 MEET THE EXPERTS Matt Haase, left, chef at cocktail-and-charcuterie lounge Distil, and Kurt Fogle, right, Distil pastry chef
Matt Haase and Kurt Fogle don't consider the Milwaukee Public Market (400 N Water St, 414-336-1111), opened in 2005 in the Third Ward, so much a market as a food court. They're right: Most of the food sold here is in the form of sandwiches or hot and cold entrées (there are even a couple of bars). Still, as we stroll through the market, they identify a few items visitors would be wise to snatch up.
BellaVitano Gold from West Allis Cheese & Sausage Shoppe ($15.99 per pound)
Haase says this cheese tastes "as if Parmesan and cheddar had a love child."
Bolzano artisan meats at Rupena's Fine Foods ($6.99 for a quarter-pound pack)
This stand sells pancetta, speck and other cured meats, made in small batches, by hand, in Milwaukee. Haase says he uses the products in cooking, to give dishes that "old-world flavor, with the funk."
Po' boy at St. Paul Fish Company ($9.95–$10.95)
This fishmonger is respected in Milwaukee as a prime source for fresh filets, but the chefs prefer it for the sandwiches—specifically, the fried oyster variety.