Milwaukee road trips: Classic bowling alleys
Rolling with Milwaukee's quirky, historic lanes.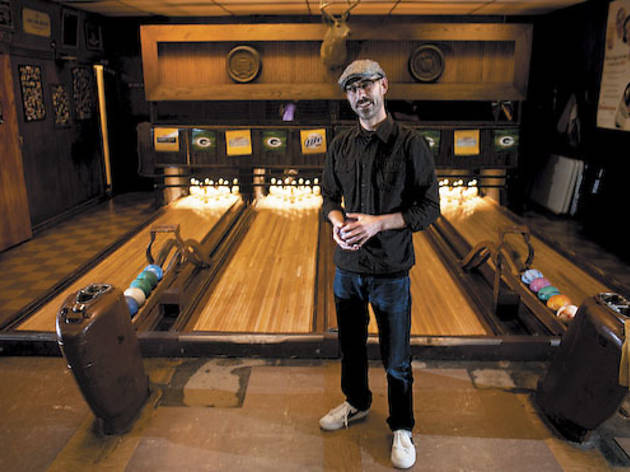 MEET THE EXPERT Jason LaPerriere, lifelong Milwaukee bowler and Sippin's Pub League player
Don't even think about slinking quietly into the Holler House(2042 W Lincoln Ave, 414-647-9284; $4 per game plus pinsetter tips), a cozy Southwest Side corner tap that houses the country's oldest certified bowling alley. As I walk in with Jason LaPerriere, my Milwaukee bowling guide, immediately we're engulfed in conversation with the regulars (topics: the Brewers, the house league's banquet, bowling). And that's before we even find a spot under the bras hanging from the rafters (signed by their tipsy contributors) or crack open our first Schlitz.
An in-law of the Skowronski family, which has owned the bar since 1908, leads us to the basement to check out the two 100-year-old lanes that, at the moment, sit dormant due to the lack of human pinsetters on duty (reservations are required). "These are real wooden floors—a little uneven—but you don't see that much anymore," LaPerriere notes.
We keep rolling with a stop at Landmark Lanes(2220 N Farwell Ave, 414-278-8770; $2.50–$3.50 per game), a 16-lane house in the historic 1927 Oriental Theatre complex on the East Side. "The Landmark's more of a hangout than a bowling alley," LaPerriere explains, citing the underground entertainment center's poorly maintained lanes, three bars and crowded arcade. But the drinks are cheap and the party always seems to be on.
Our final stop is Koz's Mini Bowl(2078 S 7th St, 414-383-0560; $3 per game plus pinsetter tips; reservations required) on the Southwest Side, where mini duckpin bowling is the name of the game (shorter lanes, three-pound balls and smaller pins). From the outside, Koz's is just another crusty dive ("A great place to take a date," LaPerriere jokes), but make your way past the glowering taxidermy to the back room and behold a perfectly preserved scene from a bygone era: Behind four stubby lanes, pin boys wait to reset every frame by hand.
For serious league games, LaPerriere heads to a sleek, spacious AMF alley, but he appreciates the city's quirky old gems, too. "Between the German roots in this city and our penchant for drinking, bowling's a huge part of Milwaukee history," he says.