Milwaukee's LGBT nightlife
Milwaukee's queer scene offers good, gay times.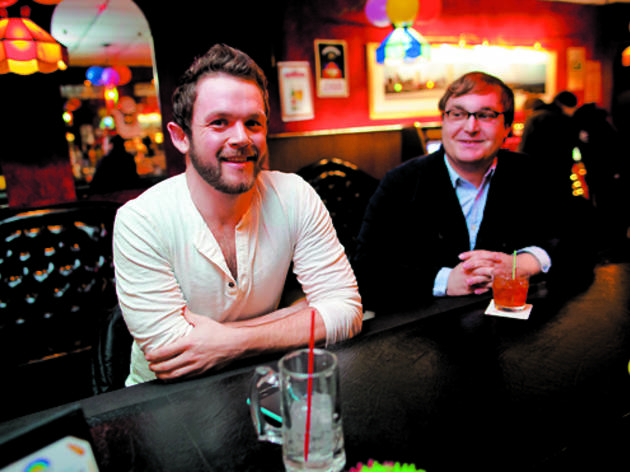 MEET THE EXPERT Michael Coates, committee member for roaming queer party Guerrilla Gay Bar Milwaukee
"Now you know why I come to Chicago all the time," says Michael Coates of roaming queer party Guerrilla Gay Bar midway through our night out in Milwaukee. My host for the night has a point: The gay scene is small. But for a Chicagoan seeking an alternative to the loud, obnoxious intersection of Roscoe and Halsted Streets, it's a welcome respite.
We begin our evening downtown at This Is It! (418 E Wells St, 414-278-9192), Milwaukee's oldest gay bar. The carpeted walls and gold marbleized mirrors are amazing, as is the crowd, a mish-mash of old timers, ironic young gays and a few straighties. "This Is It! has held its own outside the Gayborhood [Walker's Point] for years, thanks in part to its quirky charms," Coates says. I'm hooked, although I wished we'd saved the best for last and ended our night here.
Our next stop, Kruz (354 E National Ave, 414-272-5789), a leather and bear bar in Walker's Point, has a great outdoor patio with a fire pit. Sadly, it's May and still too chilly to take advantage, but inside the place is hopping. Kruz rocks a casual, noncruisy vibe, although the sleaze lingers in the john where I spot two middle-aged dudes dry humping against the wall. Walker's Pint (818 S 2nd St, 414-643-7468), also in the Gayborhood and our lone lesbian stop for the night, isn't as bustling as I'd hoped for a Saturday. But the friendly owner, dancing bartender and zero attitude (even toward men) equals good, gay times.
Lastly, we hit LaCage (801 S 2nd St, 414-383-8330), the Gayborhood's longest-standing queer dance club. All the boys here are sweating and grooving to Gaga—this is clearly where Milwaukee's gays go at night's end. But Coates warns, "It's also a hot spot for straight ladies, especially bachelorettes. They can't say no to dancing with hot, shirtless men in the cage." Outside LaCage, we hit a food cart for a Milwaukee brat. Sadly, it's the only sausage I put in my mouth that night. Still, I'd hit Brew City's LGBT scene again—especially with friends.