Mouth full of South | Southern Guide
Classic Dixie dishes are popping up all over Chicago.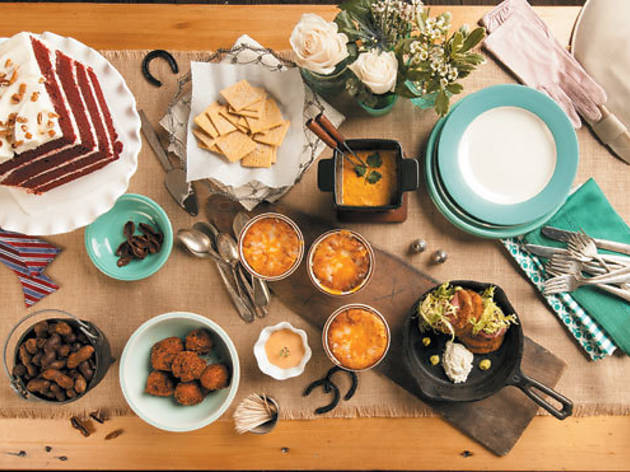 Red velvet cake
The contrasting layers of moist ruby-red cake and tangy cream-cheese frosting make this Southern cake a tried and true favorite. It's especially popular at Brown Sugar Bakery. $2.99 per cupcake, $3.50 per slice at Brown Sugar Bakery, 328 E 75th St (773-224-6262).
Boiled peanuts
Formerly called goober peas and beloved by Confederate soldiers during the Civil War, boiled peanuts are still hard to find in the Midwest. That's why we'll happily shell out four bucks for Lillie's Q's flavorful version. Four or five ounces $4 at Lillie's Q, 131 North Clinton St (773-772-5500).
Hush puppies
Legend has it that Southerners used to feed their dogs a fried cornmeal mixture to keep notoriously yappy hunting dogs from barking. Chicago q's bacon cheddar hush puppies are welcome proof that the savory snack has evolved. $8.25 at Chicago q, 1160 N Dearborn St (312-642-1160).
Pimento cheese fondue
Pimento cheese, a dixie-born delicacy, is traditionally made from sharp cheddar, pimento peppers and mayo (with regional variations). This pimento cheese fondue served with corn bread crackers is a rich twist on an old classic. Available as part of a three-course dinner $17, or five-course dinner $22. Inspiration Kitchens, 4715 N Sheridan Rd (773-275-0626).
Spoonbread
Guess what utensil is used to enjoy this soft, cornmeal-based Southern staple? Gobble it up at downtown country bar Bub City. $4.95 at Bub City, 435 N Clark St (312-610-4200).
Fried green tomatoes
This down-home dish was designed to make use of late-season tomatoes. Table Fifty-Two serves an elevated version topped with andouille sausage, sour cream and gold tomato relish. $13 at Table Fifty-Two, 52 W Elm St (312-573-4000).