Movie moms: the 50 most classic movie mothers of all time
We rank the sweetest, saltiest and most downright toxic moms to ever grace the big screen.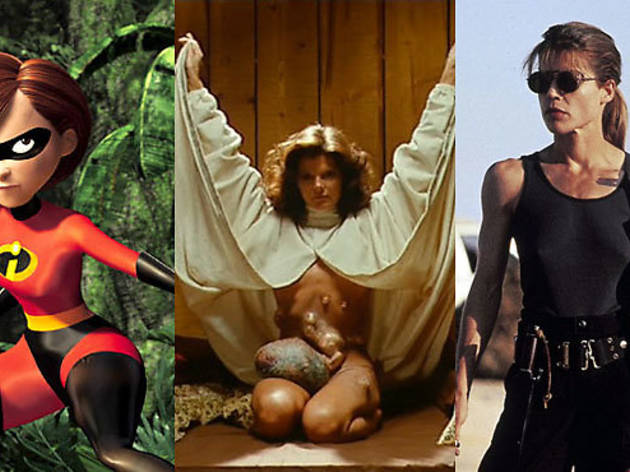 Mother's Day is upon us—don't get caught in a shame spiral by failing to deliver her some flowers, a nice card, even a phone call. (We have sweeter ideas.) Having spent many hours considering the most classic movie moms of all time and ranking them, we're well aware of the ramifications of disobeying Mother. Sometimes they involve more than harsh words. So please excuse us if this list skews toward the monstrous: We love our crazy matriarchs as much as the calming ones. You'll find plenty of honest-to-goodness nurturers on the countdown, too.
50.The Blind Side (2009)
Sandra Bullock won an Oscar for her portrayal of a football mom who takes in a hulking, homeless African-American teen, and turns him into a gridiron all-star. Lest you think this is just a stock nurturer role, watch for the scene where she rips into some local gangstas; this grizzly mama has claws.—DF

49.Precious (2009)
Mary Lee Johnston is everything you wouldn't want in a legal guardian: demanding, cruel, physically and sexually abusive. Yet Mo'Nique's furious, no-holds-barred performance in Lee Daniels's melodrama about an inner-city teen rising above her horrible home life helps us to glimpse the pitiable person beneath the monster.—KU

48. Bloody Mama (1970)
Just because this film comes under the signature of trash king Roger Corman doesn't mean it lacks for virtues, particularly the force-of-nature turn by Shelley Winters in the title role. Her criminal children (including a young Robert De Niro as a junkie) are a source of pride; she even bakes them cookies.—JR

47.Throw Momma from the Train (1987)
We've all entertained the thought, but Danny DeVito's black-comedic twist on Strangers on a Train's I'll-kill-yours-if-you-kill-mine plot gives hilarious form to our matricidal urges. As the parent from hell with a target on her back, Oscar nominee Anne Ramsey is the perfect mix of spittle-inflected rancor and leery-eyed maliciousness.—KU

46. Mother (2009)
An elderly woman (the amazing Kim Hye-ja) plays amateur detective when her dimwitted son is accused of murder—and gets more than she bargained for. South Korean filmmaker Bong Joon-ho's thriller starts off as a mystery and slyly turns into a tragic ode to parental devotion, one in which motherhood trumps morality.—DF

45. A.I. Artificial Intelligence (2001)
Even a robot boy deserves a mother's love, but it isn't easily won in Steven Spielberg's heartrending sci-fi fantasy. Frances O'Connor lends many vulnerable shades to the adoptive guardian who rejects her surrogate cyborg son. The wrenching sequence where she leaves him behind in the woods is a harrowing abandonment nightmare come to life.—KU

44. "Oedipus Wrecks," New York Stories (1989)
For the most part, Jewish mothers don't loom so large in Woody Allen's work. (His therapists may say otherwise.) But when Allen does go there, he goes big, with this Freudian riff about a lovably nagging mom (the peerless Mae Questel) who scolds her son—and the whole of Manhattan—from over the skyline like a whiny Godzilla.—JR

43.Freaky Friday (2003)
The 1976 original lures our nostalgic hearts, but this 2003 remake was a rare example of Hollywood improving on the source. Much of the success should be attributed to a ferociously funny Jamie Lee Curtis, underrated as a comedian, who cuts loose with snarling teenage abandon. She even got some awards buzz for her performance.—JR

42.Sounder (1972)
Forced to take care of the family solo when her husband is sent to prison, Cicely Tyson's Depression-era sharecropper shoulders the burden with dignity and fortitude. It's as graceful a portrayal of an African-American mother fighting the injustice of a Jim Crow–era South as cinema has ever delivered.—DF

41.Mrs. Miniver (1942)
Greer Garson was so identified with this film's saintly WWII-era mother that she later did Miniveresque public appearances to help sell the war effort. Never mind that she eventually married Richard Ney, who played her son (!); the role forever made Garson a symbol for every Blitz-blasted British mum who kept the home front intact.—DF

Read the rest of the list here.