Naked ambition
One photographer inspired a buttload of nude people to take to Chicago's streets-and he has the pictures to prove it.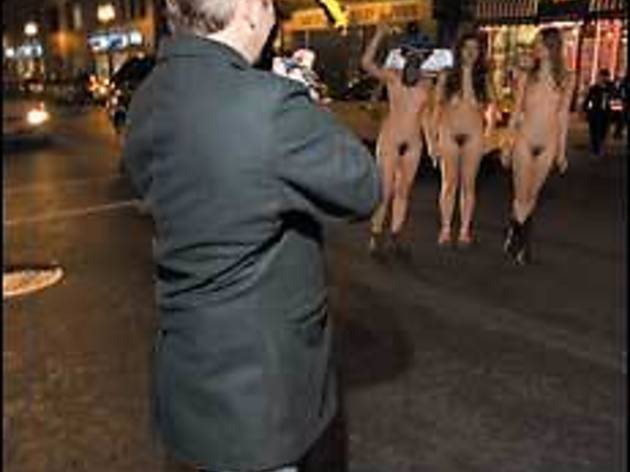 Dulcenea is a new gallery on Milwaukee Avenue in Wicker Park, but the main reason I went to the grand opening on January 5 was to see a friend who was supposed to be riding down the street on a horse—naked.
It's not so out of the ordinary for her to be naked in public. But a horse procession in the vein of Lady Godiva with other naked marauders, an event scheduled for 9pm, was not to be missed. Having caught a glimpse of the black-and-white photos inside the gallery—of various naked people in public settings, including around the Picasso sculpture downtown—the evening's nude theme began to make more sense.
The photographer, Harvey Drouillard (who goes by Harvey), is from Ann Arbor, Michigan. The show at Dulcenea, which is up until the end of January, is a series of guerilla-type shots that he's been doing for 13 years—and about half of the 22 photos, some blown up to 4x6 feet, were taken in Chicago. A table displayed his book, The Spirit of Lady Godiva, and a calendar featuring naked people positioned by Chicago landmarks, such as the Chicago Theatre, the White Palace Grill and the Bean.
No, Mayor Daley did not give Harvey permission to shoot naked people by the Bean. But while Harvey's shots have an impromptu quality to them, the people frequently seem posed. He says each scene takes days, sometimes weeks, to plan—yet shoots rarely last more than 15 seconds. He'll scout a spot, tell the volunteers where to go (sometimes by placing pennies on the ground), and train them to take off and put on their clothes with ease. Harvey maps out escape routes, and has "security" people who report the approach of cops and kids with hand signals. When the coast is clear, he gives the go-ahead for the subjects to strip down and fires away until he gets his shot. Once he does, the clothes go back on and everyone goes on his way. "The idea is to not catch any reaction if we can—to do it smoothly and quickly enough so that it looks like everyone's cool with the nudity," says Harvey, which he says distinguishes him from photographer Spencer Tunick's more largescale productions. Harvey's work was inspired by an instance when he saw a long line of people from his loft window and thought, Wouldn't it be funny if the last few people were naked and no one in line noticed?
Harvey hasn't had many serious run-ins with the police: Only three volunteers have been arrested, and one Lady Godiva in Michigan got a disorderly conduct ticket. Once an Ann Arbor cop made a naked posse say, "If I ever do something this stupid again, I will not get caught." Chalk it up to careful planning: For the Bean shot, the man and woman pictured walked around for an hour and 15 minutes before they took it all off. The unrobed pedestrians weren't allowed into the White Palace, but the manager was grinning when she turned them away (and bought a calendar). When Harvey did a shoot outside the San Francisco building that houses Francis Ford Coppola's office, Coppola was in the photo looking out his window; he and his wife later purchased a print.
By the time 9pm rolled around, the horse (four once blocked off Mission Street in San Francisco) was still a no-show, but there were three women prepped to strip down at Salud and walk two blocks down the middle of Milwaukee Avenue. Harvey was out to capture it all—and it caused quite a stir (unlike most of his shoots). One man in a passing car yelled, "I love this country!" and a number of people caught off-guard ended up in the gallery. One newcomer, Laila Olson, had been riding by in a cab. "It's not anything you thought would happen in Chicago," she said. "I'm naked all the time and I love it, and they get to walk down the street naked? It's not fair!"
Back in the gallery, some more people took off their clothes, and it didn't seem that unusual after awhile. "This is what happens; the art is way beyond me. It's just fun," Harvey said. "It's not just an adrenaline buzz, it's a social thing—it's like a sociological experiment."
Dulcenea (1431 N Milwaukee Ave) is open weekends noon to 6pm, weekdays (no set hours) and Wednesday nights with DJs. Calendars are $15, and also available at Batteries Not Included (1439 N Milwaukee Ave). Visit www.dulcenea.org or www.harveyphotos.com.