Neon fix-it guys
These craftsmen fix vintage neon signs.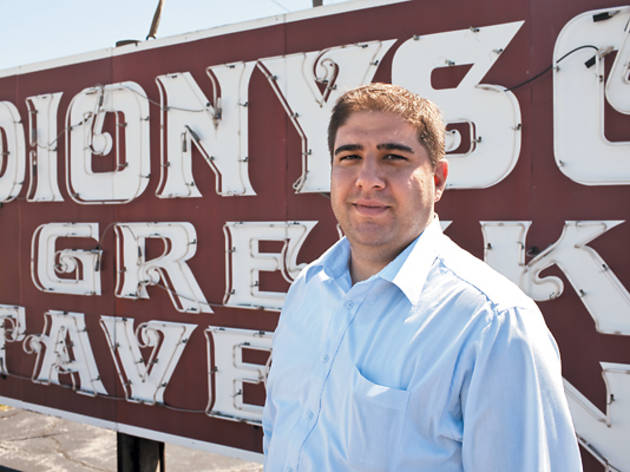 Sam Menna of NSI Signs in Addison recently received an unusual order: Create a replica of the iconic WELCOME TO FABULOUS LAS VEGAS neon sign that reads WELCOME TO FABULOUS J-DISCOUNT PHARMACY CHICAGO. The finished piece, which took Menna eight weeks to make, stands 18 feet tall—close in size to the 25-foot-tall monolith that inspired it—and now sits outside the pharmacy at 1344 North Western Avenue. The third-generation "glass bender," as neon sign makers are called, is still an employee at the company his grandfather founded, though the family sold the business last year. Orders like this, he says, don't come often.
Angelo Alex, owner of Artistic Signs in Joliet, agrees, explaining that most businesses just aren't into neon anymore. "Every once in a while you get someone who wants something artistic and is willing to pay for it. But that's rare. Nowadays, it's 70 percent LED and 30 percent neon."
Neon is time-consuming to create and more expensive and fragile than LED, less energy-efficient and requires long-term maintenance. But its disappearance is a disappointing trend among the journeymen who take pride in a craft they say is a delicate mix of art and science.
Glass bending is traditionally learned in trade-school programs (which are also shrinking in numbers) or through an apprenticeship. Menna learned the craft from his father, who learned it alongside his father. (The two elders opened National Signs, an early incarnation of NSI Signs, in 1972 and soon after taught themselves glass bending by salvaging broken neons and disassembling them in their shop.) But with today's lower demand, it's becoming a dying art.
"There aren't gonna be any new guys learning it, because there's no work," says Wally Wysocki, co-owner of Strictly Neon in Crestwood. "The sign industry as a whole has taken an incredible whack. The bulk of the work [usually] comes from new businesses. But the economy has taken a dump, so there aren't a lot of new businesses."
The common alternative today is LED channel letters—three-dimensional, individually cut letters typically seen outside strip malls and grocery stores. While Wysocki continues to work in neon (he's repaired the Drake Hotel and Redhead Piano Bar signs), he says neon probably accounts for only five percent of his business these days (channel letters, electronic messaging signs and vinyl graphics make up the rest). "You either get versatile or get out."
When old-school neon requests do come in, it's often from a nostalgia lover who wants to replicate or repair a vintage sign. "I had a client that wanted me to duplicate the Kiddieland entrance sign," Alex says. He spent a month creating a two-foot-by-three-foot miniature replica of the candy-striped sign from the Melrose Park amusement park, which shuttered in 2009. "He and his family loved the place and were sad to see it close."
Most new orders, though, are uninspiring requests like neon borders for windows or simple signs for tanning salons and beer companies. Teardowns are another piece of the business: Many of the once-stunning neon signs constructed on porcelain faces have fallen into neglect, and sign makers often get the call to remove them. They have equipment to remove signs intact, rather than in pieces, which Menna says is faster and safer than a demolition crew.
"Most of the old signs…they're done and gone," Alex says. "It's a rarity where you'll find a business from the '40s or '50s that has a porcelain sign that they want to bring up to par. It could cost thousands."
There's little optimism that neon signs will fall off the endangered-landmark list anytime soon. Practicality aside, Wysocki says the city frowns upon anything flashy with chasing lights (which makes new commissions even more unlikely), and Alex is equally pessimistic. "Beer signs—that's it for neon," he says. "It's just going to be beer signs."