New sports beers from Jarrett Payton and Frank Thomas
Argus Jarrett Payton All-American Wheat Ale and Big Hurt Beer enter the craft brew market.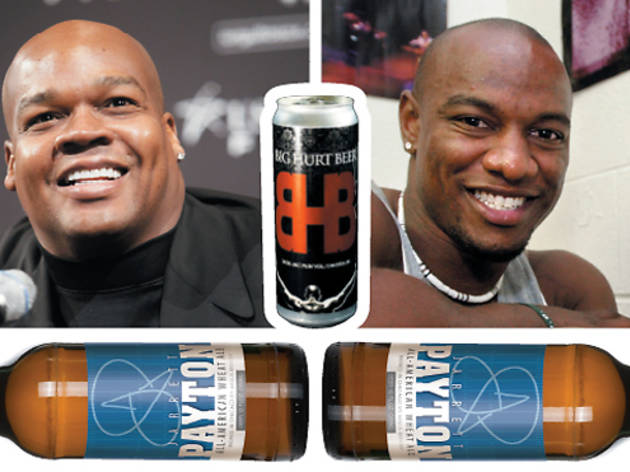 Beer and baseball go together like Frank Thomas and moon-shot home runs. Which is why the former White Sox slugger thinks his six-month-old namesake lager, Big Hurt Beer, is ideal for the craft brew market. Thomas now has competition in the celebrity game of fronting new brews. And the name coming onto the scene is royalty in Chicago sports history: Payton.
Introducing his new Jarrett Payton All-American Wheat Ale into stores and bars over the past few weeks, Walter Payton's son may be able to catch up to Thomas by grinding it out with boots on the ground in Chicago. Payton, scion of the greatest Bears player, who died of liver disease at 45 in 1999, could have the advantage in salesmanship. The Chicagoan is committed daily to hawking his ale anyplace that will have him—bars, clubs and liquor stores. Meanwhile, Thomas resides part time in suburban Libertyville and most of the year in Las Vegas. "I'll be here a lot" plugging the beer, Thomas says.
Despite the recent birth of his first son, Jaden Thomas, Payton has been given dispensation at home to peddle his brewski. "My wife is so understanding. You have to be out there," Payton says. "Not only am I selling beer, but I'm also selling people on the experience."
The 31-year-old's career as a journeyman running back includes short stints with the NFL, NFL Europe, the Canadian Football League and the Indoor Football League—but his lineage is magic. While Hall of Fame–bound Thomas could get short shrift in the most militant Cubs precincts, everyone, Cubs or Sox fan, will talk Sweetness with Jarrett.
"I get bombarded with stories," Payton says. "They come up to you and say how much they respect what the family has done."
Payton's beer is produced by the Far South Side's up-and-coming Argus Brewery, run by Bob Jensen. Big Hurt Beer is brewed in Wisconsin and has its origins far outside the city: Jeff Moses, a beer meister in Salinas, California, worked with Thomas to produce the lager. And he knew it had to be a winner.
"It's a very difficult market to bring new products into," says Moses, who has earned a name producing beer and beer festivals with his company Night That Never Ends. "It's a crowded beer market. There are more breweries, more brands than ever."
Moses and Night That Never Ends aren't locally known, but Thomas says Chicagoans shouldn't discredit his product. "They've been selling beer worldwide for a long time," he says. "They know what they're doing."
Big Hurt Beer made its debut in the 27-store Binny's chain in November. Thomas made appearances at four stores. Moses's crew is expanding the beer's distribution to Thomas's native Georgia; Alabama, where Thomas went to school at Auburn University; and Tennessee. Negotiations are ongoing to stock Big Hurt Beer at U.S. Cellular Field. But despite the sports-celebrity names, there are still holes in distribution close to home, requiring Payton and Thomas to continue to hit the promotional trail.
Eli Robinson, beer buyer for the 75-year-old Schaefer's Wine and Liquors on the Skokie-Evanston border, says he's never heard of either Thomas's or Payton's brews. Robinson says he'll often carry new brands if pitched by distributors or if customers come in asking for the beer after sampling it at a bar. All the more reason for the ex-jocks to hawk their beers—and then cross their fingers the taste testers come back for seconds.