Not your average Joe
St. Joseph's Silver Beach wins the medal for sweetest sand.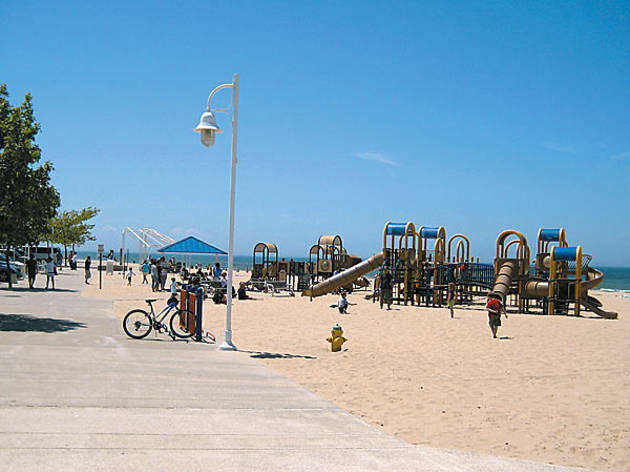 St. Joseph, Michigan
Round-trip 194 miles
Gas $22.50
Only 90 minutes from Chicago, St. Joseph is a step back in time—a Michigan beach community perched on a bluff where everyone says good morning and a parking violation is $10. For 80 years, Silver Beach (named after the silver shimmer of the moon on night water) was known for carnival music and carousels, until 1971 when the Silver Beach Amusement Park closed.
Today, this 1,600-foot stretch of beach along Lake Michigan still has offerings aplenty. Bring your pole and fish along the pier or show off your spike at one of the 16 sand-volleyball courts. Rent a kayak from Outpost Sports (800 Lions Park Dr, 269-983-2010) at the beach's south end for $40 a day or a boogie board for $10; if you'd rather sit, $8 will get you a high-back chair. Kids uninterested in sand castles can play on slides and swings at one of three playground structures, while turquoise water and sandy lake floors beckon swimmers.
The beach is combed for debris regularly, making the fine, blond sand ideal for walking, but be careful—by late morning it'll scorch your feet. Beach homes with dune grass and purple petunias line the backside of the beach to the south, but a water treatment plant will cut your walk short. Instead, take a five-minute detour across the bridge at the north end of Silver Beach for a stroll along Tiscornia and Jean Clock beaches. These oceanlike stretches of sand are backyards to million-dollar homes overlooking the lake. Some areas ban trespassing, so stick to the water's edge to avoid finger-wagging rich ladies.
Get situated by picking up a $1-an-hour bike and a trail map at the Welcome Center (120 State St, 269-985-1111) and pedaling along the 2-mile John and Dede Howard Recreation Trail that hugs the edge of town. If you haven't packed a cooler, Schu's on Silver Beach (501 Pleasant St, 269-983-7248) offers corn and chili dogs, nachos and pretzels. Restrooms (cleanish, thankfully) complete with changing stalls are situated next door.
Silver Beach Pizza (410 Vine St, 269-983-4743), located in the Amtrak depot 200 yards from the beach behind the 600-space parking lot (open at 5am, nonresidents pay $8/day), is a casual spot for lunch or a boozy tropical drink at sunset. End your beach day by climbing the stairs into town by the train depot and watching the sun fade while sitting on a bench overlooking the water.
For a shower steps from the beach, stay at the Boulevard Inn (521 Lake Blvd, 269-983-6600; $159/night and up), perched on the bluff. A desk clerk brags the hotel would be five-star if it had a pool, but the no-frills rooms have a rather stale, Best Western–like feel. For more luxurious accommodations, reserve a room at the Chestnut House Bed & Breakfast (1911 Lakeshore Dr, 269-983-7413; $135/night and up). Owners Bob and Lori Stanwood renovated this four-bedroom, 1920s Arts and Crafts home with Kohler spa showers, fireplaces and flat-screen TVs; the decadent Coastal Room has a nine-jet shower and a claw-foot tub that Kohler calls the Birthday Bath. Lounge at the pool or take a five-minute walk into town after lingering over coffee, quiche and Michigan berry coffee cake on the sun-porch.
Rooms across the street at South Cliff Inn Bed & Breakfast (1900 Lakeshore Dr, 269-983-4881; $109/night and up) have a more '80s suburban feel (think mauve and hunter-green floral wallpaper) but offer stunning lake views and private baths.
Leave behind your stilettos and cologne and expect casual, kid-friendly dinners. Try Port 412 (412 State St, 269-982-0412), a laid-back eatery offering martinis, Americanish entrées like grilled-Cajun salmon with pineapple roast and tomato couscous ($22) or a filet with cabernet beurre rouge ($30) or with Chesapeake crab for $4 more and small plates of crab cakes or hummus ($9–$13). A five-mile drive to Tosi's (4337 Ridge Rd, Stevensville, 269-429-3689) for Northern Italian fare like malfatti (spinach rolls with meat sauce, $19) or scaloppine (veal with mushrooms and marsala, $31) is a worthwhile drive for those in search of more flavor. After dinner, find your way to the Chocolate Café (300 State St, 269-985-9866) for a gooey slice of cake, or fill a waffle cone with cake-batter ice cream at Kilwin's (217 State St, 269-982-1330), where families straight out of Land's End catalogs treat their 2.5 kids to 1.5 scoops. Sunday comes quickly, but a few days on St. Joseph's beach will purge your memory of hectic city life.