Nøthing Major
Pitchfork has a fashioncentric baby.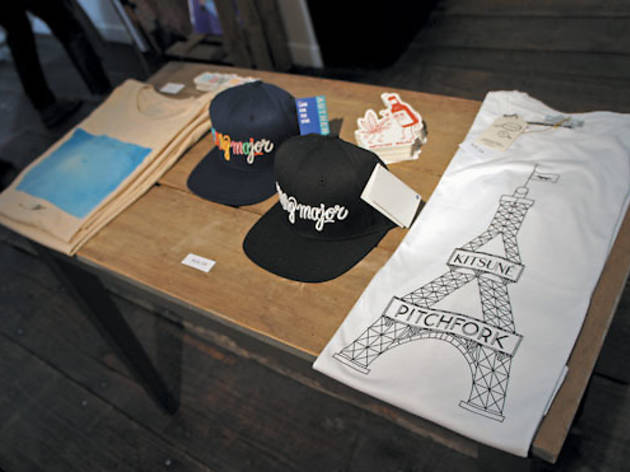 What, exactly, is Nøthing Major? Is the Pitchfork affiliate, which launches Friday 21, the cool-kid Threadless? Not exclusively. Is it an apathetically titled design blog written with the same obsessive, opinionated verve as the tastemaking music website? Kind of, but with longer, magazine-like features than your average blog—a P-fork for visual culture.
"There's an experimental art project aspect to it," says NøMa editor John Dugan, a former associate editor at Design Bureau and the former Web and Nightlife editor of TOC. NøMa began to take shape two years ago, when Pitchfork president Chris Kaskie and creative director Mike Renaud decided to create an outlet for sharing their nonmusic interests: graphic design, menswear, photography. They envisioned a tightly curated, design-conscious site for celebrating emerging culture and selling goods made mostly by smaller U.S. manufacturers.
"Pitchfork needs to focus on being a music magazine, but that doesn't mean that [the staff] here isn't passionate and interested in other things," Kaskie says. "[Nøthing Major is] not going to necessarily shy away from covering musicians, but it's not going to be the focus. It's a separate entity [from Pitchfork], so it's technically not an issue." He takes pains to point out that NøMa's ties to P-fork are "very loose"—namely, that the two share office space in Logan Square. But the sites' intended audiences are the same. "We can step outside of Pitchfork and also perhaps be a filter and guide" to fashion and design in the way that P-fork is a music bellwether.
At Paris's Pitchfork Festival in October, NøMa ran a pop-up shop, something we can expect to see again at the Chicago festival as well. It also has been selling $30 shirts online—designs by artists such as Ryan Duggan, Edie Fake and Katie Gibb—plus beanies, buttons and hard-to-find magazines, like Dutch style journal Fantastic Man.
The NøMa aesthetic is unmistakably dude-centric. The founders share an interest in men's clothing, and Pitchfork's demographic skews 60 to 65 percent male, Kaskie says. But ladies will not be left out. "A lot of my best writers are way more up on what's happening in womenswear," Dugan adds. "So I think there will be a balance."
In addition to the shop and features, NothingMajor.com includes Q&As with artists and designers about how they conceived of particular products. It echoes the Show 'n' Tell Show, a live show Renaud cohosts at Lincoln Hall. According to Renaud, telling the stories behind the creative process, how the spark of an idea leads to a finished product, is how NøMa will distinguish itself from the Web's glut of design blogs.
Asked if he's worried Nøthing Major will be perceived as merely a revenue generator, Kaskie insists the focus is creating desirable items in small batches. "We're doing a hat by a company called Ebbets Field Flannels in four variations. And of each hat, we're doing 24." It's not nearly enough flannel to clothe Pitchfork's 3.5 million monthly readers—but just the right amount for a scrappy start-up.