Numerical scribbles at Addison Brown Line
Hieroglyphs are scores from historic Cubs game.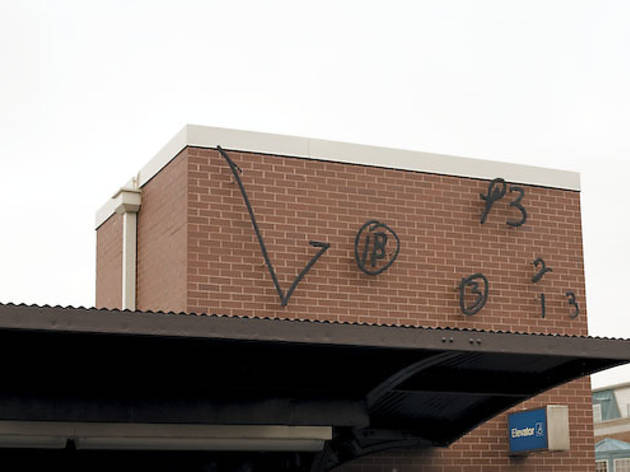 Q I see this numerical scribble on the brick elevator tower at the Addison Brown Line El stop every day and always wonder what it is.—Thomas Wackerlin, Lakeview
A "I know it's cryptic, it's meant to be," says Gregory Miguel Gómez, the Boston-based artist responsible for the work. Installed in 2007 as part of the CTA's Brown Line renovation project, the bronze sculptures pinned to brick that comprise The Encrypted Inning depict two innings of scorekeeping from a May 14, 1969, come-from-behind Cubs victory against the San Diego Padres. The Padres' sixth inning is represented on the platform side. Running down the street side of the elevator shaft are notes from the Cubs' ninth inning, in which Ernie Banks hit a lead-off homer to tie the game 2 to 2, then Nate Oliver scored the winning run off a Willie Smith single. "As an artist, I'm interested in cryptic information that represents real knowledge, how symbols become their own language," Gómez says. "The tradition of scorekeeping is in line with that." To create the distinct, dashed-off handwriting style used in the piece, Gómez adapted a more-recent score sheet from none other than Ron Santo, the Cubs great turned announcer who passed away in December.
Curious about something around town? E-mail us at chicago@timeoutchicago.com.