Ojai, CA
Head west to this chilled-out valley town for pink sunsets, fresh food and laid-back charm.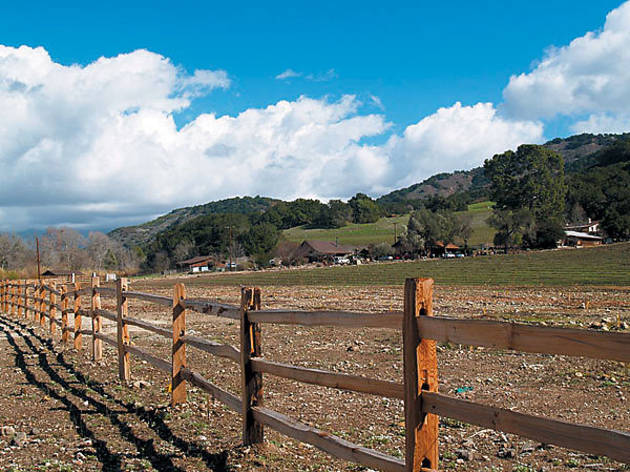 It's a little bit rugged, a little bit artsy, a little bit spiritual. But it's also glam enough to draw celebrity vacationers from its hour-to-the-north neighbor, Los Angeles. Welcome to Ojai (pronounced "OH-high," which means moon in the language of the Native American Chumash tribe), a town blissfully free of chains and big business, nestled in a Southern California mountain valley.
If you like high thread-counts, gorgeous mission-style architecture, idyllic mountain views and zero pretension, get thee to the luxe yet laid-back Ojai Valley Inn & Spa (905 Country Club Rd, 888-697-8780, advertised room rates start at $400, but we found a $280/night rate when booking online)—the resort is the reason most visitors find their way to the valley in the first place. Discreetly tucked a few minutes from the heart of the small city, it embraces the natural beauty and active lifestyle of the town itself with outdoor activities like golf, tennis and swimming. In the mood for pampering? You're in the right place: Even the most discerning of spa goers will be impressed by the cushy spa digs, where guests are treated to services like the Moroccan Spice Ritual and can enjoy a private pool, a fitness center decked out with state-of-the-art machines (and bowls offering icy, eucalyptus-scented towels) and a secret back door for clandestine visits from Hollywood stars.
Even if you don't want to splurge on an overnight stay, you should definitely swing by the resort for cocktails and dinner at its crown jewel restaurant, Maravilla (805-646-1111). The popular and pricey venue with a phone-book–size wine list boasts an outdoor dining deck that's the perfect vantage point for taking in what locals affectionately call the Pink Moment. At sunset, look toward the Topa Topa Mountains—the horizon glows with an almost mystical pinkish hue.
You could amuse yourself at the resort all day, but with the glorious sunshine Ojai constantly basks in, no one can resist the myriad hiking opportunities that beckon all over the valley. Many visitors choose to rent bikes and leisurely pedal about 15 miles west to the coastal city of Ventura. (And many also decide to take the trolley back into town.) If you're up for exploring Ventura without any physical exertion, stop in for a vino tasting at Old Creek Ranch Winery (10024 Old Creek Rd, 805-649-4132). The one-time vineyard now buys grapes from growers all the way up north in Napa Valley. Hearty pours of each of its latest blends will set you back only $10.
After exploring, head back to Ojai for lunch and shopping. The town is a haven for artists—including, perhaps most famously, the deceased potter Beatrice Wood—and art enthusiasts will be in heaven investigating the wares, paintings and sculptures on display in the dozen or so galleries, such as Primavera (214 E Ojai Ave, 805-646-7133), which carries blown glass, woodwork, jewelry and other crafts. Off the main drag, you'll find Bart's Books (302 W Matilija St, 805-646-3755). Prepare to be sucked in: This open-air bookstore—with a grapefruit tree's branches peeking through a makeshift roof—houses thousands of used books, organized in a maze of "rooms." A sign on the front door reads CLOSED AT SUNSET, but patrons visiting after dusk can slip cash or coins into the front-door slot if they'd like to make an after-hours purchase.
As for lunch, wander into one of the Mexican restaurants in town for spicy fish tacos and a cold beer. The "wet" burrito (served blanketed in sauce and cheese) at Antonio's (106 S Montgomery St, 805-646-6353) will leave you full for hours. Or if you're in the mood for breakfasty fare, take a seat at nearby Ojai Café Emporium (108 S Montgomery St, 805-646-2723). There are plenty of light, healthy options like granola and fresh fruit, but it's more fun to tuck into a spicy egg-based dish, like the fiery Migas (scrambled eggs with tortilla chips, chiles, diced tomato, green onions and cheddar cheese).
Once your appetite returns, dinner options abound. Slightly fancier than jeans and flip-flops is Suzanne's Cuisine (502 W Ojai Ave, 805-640-1961), which draws crowds with its seasonal menu and superfresh ingredients. For a more casual meal, you'll love Boccali's (3277 E Ojai Ave, 805-646-6116), a family-run Italian spot where the wine is made in-house and the garden-fresh tomatoes used in sauces are grown in the backyard. The pizzas are cooked California-style (loaded up with fresh veggies), the pasta is housemade, and the eggplant parmigiana is the best combo of bubbly, cheesy deliciousness we've ever tasted. If the weather's right—and let's be honest, it always is in Ojai—diners plop onto picnic-bench-style tables in the front yard. It's a little piece of paradise, every day of the year.
THE TAB

Two nights, two people
Airfare $240 per person*
Hotel $560 ($280 a night rate)
+Car ($100 for 2 days) + gas ($50): $150
+Meals $265
TOTAL $1,455

* Southwest flies to direct from Midway to LAX.