Panera Cares opens in Lakeview
How can a pay-what-you-can café keep from descending into a free-for-all?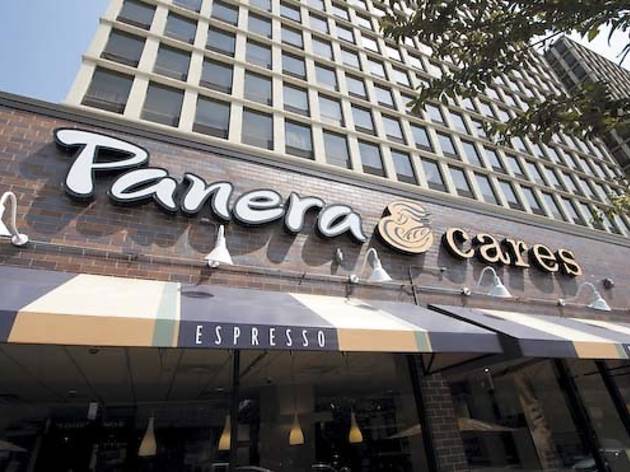 "How much do you wish to contribute today?" a counter clerk at Panera's new donation-based restaurant in Lakeview asked one afternoon last week. Her eyes directed me to a cash-filled pledge box in front of the register. Before any guilt or apprehension could sink in, I delivered the bad news: For my You Pick Two—a roast-turkey avocado BLT sandwich and a cup of broccoli cheddar soup that rang in at $8.54—I would be paying the nice round sum of zero.
The woman's smile drooped slightly. "Did one of the greeters tell you how this works?"
They did. Panera Cares Community Café's first line of defense to abuse of its pay-what-you-can model are grinning employees who pounce on customers at the entrance. They explain that the eatery is "a hand up, not a handout."
"If you can afford to donate a little more than the total price for your meal, we ask that you do. This way, those who are food insecure and in need of a meal are able to get one," a warm woman named Audrey explained, attempting to kill with kindness my plans to bilk the system.
The preemptive pressure to donate is strategic. In order to be a viable restaurant, the nonprofit café can't let most people eat for free. "We can't go into a food desert or a chronically poor neighborhood. We'd be open about a day," says Kate Antonacci, project manager of Panera Cares. "Generally 60 percent of customers leave the suggested donation amount, about 15 to 20 percent leave more and 15 to 20 percent leave less, significantly less, or nothing. So that brings in about 75 to 80 percent of the retail value."
Next week, the café plans to have its volunteer system established. Those who can't afford to donate will have the opportunity to sign up for a slot to don an apron for an hour and do basic front-of-house tasks such as cleaning, busing tables and watering plants in return for a meal voucher.
The Chicago location of Panera Cares opened June 21 at 616 West Diversey Parkway, in what was previously a for-profit Panera. It follows outposts in Clayton, Missouri; Dearborn, Michigan; and Portland, Oregon. The opening of the Portland café in early 2011, Antonacci says, prepared the St. Louis–based company to take its charitable concept into larger markets like Chicago that have higher homeless populations.
"A lot of people in Portland live a nomadic, chosen homeless lifestyle," Antonacci says. "Word spread that Panera Cares was a place that allowed anyone to come and eat for free, and employees didn't enforce the rules. We got ourselves into a situation in which people who could contribute didn't want to come anymore because they said, 'This is turning into a soup kitchen.' "
The company brought in tougher management to enforce rules of behavior in the restaurant, Antonacci says. "If you're coming in with no shoes on and a bottle in your pocket, of course we're going to ask you to leave. No restaurant would tolerate that."
Since its first pay-what-you-can café opened in May 2010, Panera has been fending off criticism that its nonprofit restaurants positively impact the company's profile more than the problem of hunger. Antonacci says that's not the case. "PR is a by-product. It was never the intent. We recognize we're not going to eliminate the food insecurity problem in this country through four cafés. But they do make a difference in the immediate communities."
Back in Lakeview, after finishing my You Pick Two—somewhat spoiled by a guilty conscience when the greeters checked in to ask about my experience—I headed out into the heat. Sitting cross-legged on the sidewalk was a gray-haired woman, plastic hospital bracelets ringing her arms. "Sir, can you help me out?" she asked. For once, I had a decent answer: a café, a free meal, a hand up.