Peaceful Places Chicago
In a new book, travel writer Anne Ford uncovers 119 serene spots in the Windy City.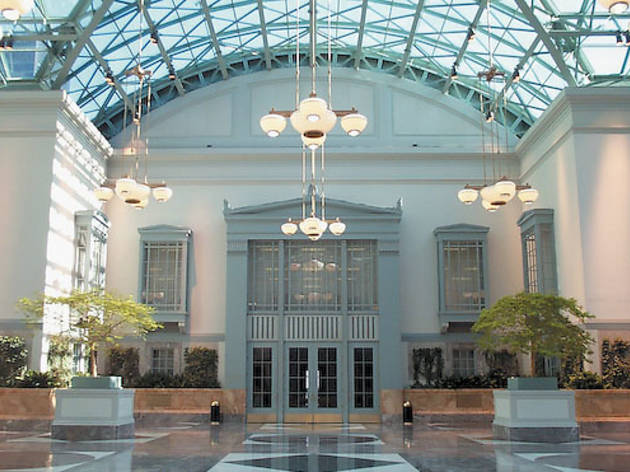 A series of guidebooks from outdoorsy publisher Menasha Ridge Press aims to reveal serene spots in bustling cities. The newest title in the series, Peaceful Places Chicago ($14.95) by local travel writer Anne Ford, uncovers and keenly reviews 119 spots. We drop by three of Ford's recommended indoor getaways to see just how Zen we can feel in the middle of the grayest days of winter.
Abraham Lincoln Book Shop (357 W Chicago Ave; Mon–Wed, Fri 9am–5pm; Thu 9am–7pm; Sat 10am–4pm)
Ford says "Even if you aren't prepared to spend thousands of dollars on, say, a letter hand-written by Andrew Johnson, the staff will happily allow quiet browsing in the subdued, museumlike setting."
We say This nook is wonderfully mancave-ish, with floor-to-ceiling wood shelves, old and rare books, bronze sculptures and prints that make you feel miles away from that interwebs thingamabob.
The Chicago Temple (77 W Washington St; daily 7am–9pm)
Ford says "Dark wooden pews, subdued stained-glass windows, and a simple altar flanked by candles create an environment of beautiful minimalism that inspires contemplation."
We say We've always admired this grandiose Methodist church for its stolid sliver of street-level Gothic windows, punctuating the humming glass-and-steel landscape. The complementary interior gives us a complete escape from hectic Loop worklife.
The Winter Garden at the Harold Washington Library (400 S State St; Mon–Thu 9am–9pm; Fri, Sat 9am–5pm; Sun 1–5pm)
Ford says "You'll find no books up here—just a few tables and chairs where you can work, write, read, or whatever, in near-total quiet. The glow of sunlight coming through the glass dome is much appreciated in winter months, and there's free Wi-Fi access as well."
We say For years, we've been coming to this ninth-floor space to see its underappreciated exhibits of the library's astounding collection of ephemera. The enclave of tables makes a perfect working environment, but the utter silence can be worrisome at times.