PedalPub spinning its wheels in Chicago expansion
The bicycle made for brew hits dead end trying to get a business license.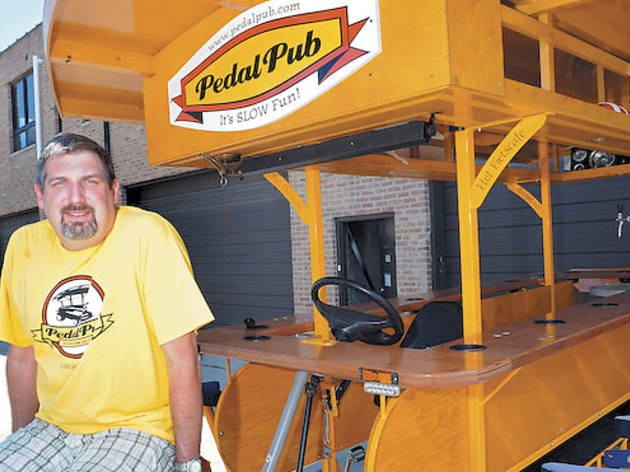 Think of it as a bicycle built for brew.
The PedalPub is golden yellow, weighs about a ton, seats 16 pedalers (plus a sober driver who steers) and has the capability to dispense beer from a tapped keg. In Minneapolis and St. Paul, Minnesota, where this Netherlands-manufactured contraption first hit U.S. streets, it's a wild (and wildly popular) spin on the traditional bar crawl, eliminating those pesky, beerless slogs between bars.
But as PedalPub attempts its maiden expansion in Chicago, the road ahead looks bumpy.
PedalPub city manager Matt Graham, who drove one of the cycles for four years in the Twin Cities, brought the concept here in April. "We had a ton—I mean a ton—of people who were coming from Chicago to do the tour," Graham says. "The thought was, Why should Minneapolis have all the fun?" More than three months later, met with some unwelcoming red tape, he still hasn't been able to secure a license to get the business into gear.
In Minnesota, the company has a basic limited business license. Here in Chicago, the city's Department of Business Affairs and Consumer Protection directed PedalPub to register for a charter bus license, required to transport passengers in a public passenger vehicle for a fee.
There is just one Kafkaesque complication: "Under the current law," says DBAC spokeswoman Efrat Stein, "a charter sightseeing tour operator requires the vehicle to be propelled by a motor." A motor that the PedalPub's Flintstonian design doesn't allow for.
In the meantime, as a preview of the service, Graham has been hosting free pub crawls from the Fulton Market, where the bike is stored, to bars around Ukrainian Village and Wicker Park. At this point, he's not even attempting to persuade the city to exempt PedalPub from the state's open container law to make the bike BYOB; in Minnesota, it took two years and the support of state Rep. Steve Simon to accomplish that feat.
In Graham's opinion, the city's definition for "charter bus" is too narrow. "Their basis for rejecting us is that we don't use gasoline?" he says, with a note of exasperation. "They have it set in their mind and there's no flexibility in their view." PedalPub is appealing the city's rejection of its business license application. "No one likes to get lawyers involved. We'd rather apply and be done with it. But when they treat you like that and kind of give you no respect, it's what it requires."
Graham has also solicited the support of some aldermen. One of the more progressive councilmen, 1st Ward Ald. Proco "Joe" Moreno, is in PedalPub's corner. "If we need to change the ordinance, I'll definitely support that and sponsor it, because the reality is that [PedalPub] is very entrepreneurial in its thinking, it's safe, it's fun," Moreno says. "If we need to change some definitions to have their license accepted, then that's what we need to do."
Moreno says he'd have to mull over backing an ordinance exempting PedalPub from the open container law. "It's not that PedalPub wouldn't respect it, it's that what are we opening ourselves up to? I don't want people just roaming around on the sidewalk and streets drinking."