Pier pressure
We set sail to discover Navy Pier's buried cultural treasures.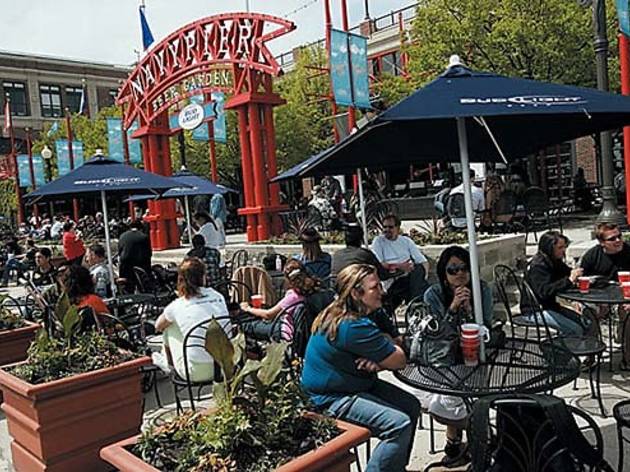 Photo: Michael Jarecki
When it comes to luring skyline-gawking, fanny-packing, flip-flop–rocking out-of-towners, Navy Pier blows all other Chicago tourist attractions out of the water. We're talking close to 9 million visitors a year, nearly triple the number who hoof it through Lincoln Park Zoo, according to Crain's ranking of the city's top sightseeing spots.
But Chicagoans dragooned onto the pier by visiting friends and relations will be excused for shouting two questions under the cheese-rock–blaring loudspeakers: Why is this place so popular, and can a self-respecting local actually enjoy a day here?
Our response to the first question: We have no Effen (as in the vodka hyped at pier cocktail stands) idea. To the second query we answer yes—as long as you stick to the following shore bets.
First, avoid driving to the waterfront. Nothing torpedoes a weekend day of fun faster than a $23 parking fee. Take one of the seven CTA bus lines that stop at the pier terminal, or drive down on a Sunday when metered spots are free, park in the Streeterville or River North 'hoods and hop the free trolley that runs east on Illinois Street from Clark Street to the 1916 landmark.
As you mosey onto the pier, watch for a cop with salt-and-pepper hair directing traffic with fluid hand gestures and dancelike steps. He's not flashy like Flatley, but he battles gridlock with style. He cheerfully declined to be interviewed for this story, but he's definitely worth more than a passing glance.
Photo: Michael Jarecki
If you're in the company of youngsters, hightail it to the Chicago Children's Museum before it leaves the pier's Family Pavilion for new digs, probably in Grant Park. Kids and their adults will enjoy erecting skyscrapers with plastic girders (no building-inspector bribes required) while a camera records the project for later online viewing. But it's hardest to tear little guys away from the WaterWays exhibit, with its splashtastic water wheels and build-your-own fountain table. And if you're up for starting the weekend early, the museum's free for everyone on Thursdays from 5–8pm.
Afterward, stop at Family Pavilion mainstay Magic Masters, the understated illusion emporium where staffers show off tricks such as "The Coloring Book," in which uncolored pictures suddenly sport a Crayola-box full of hues after a practiced riffle of pages. "It's absolutely the easiest trick in the store," a counterman tells us one Sunday. "We teach it to 4-year-olds and congressmen."
Does the shop sell any tricks not listed on the wall behind the counter? "A few," he intimates. "Work through all the ones on the board and we'll talk."
For our last trick, we'll reveal how to find an adult good time on Navy Pier. If there's a stellar IMAX screening (The Dark Knight, which includes Chicago scenes shot with IMAX cameras, starts its Navy Pier run July 18), select prime seats and cut your box-office wait by purchasing advance tickets at imax.com/chicago.
Meanwhile, the Tony Award–winning Chicago Shakespeare Theater remains Navy Pier's best cultural bet. Hit a matinee of The Comedy of Errors through June 29 and then take in the sun's fading rays over drinks outside. (Hot tip: TOC Theater editor Christopher Piatt says this fall's production of Christopher Marlowe's Edward II promises to be an edgy good time. He also thinks the staging of Peter Shaffer's Amadeus looks like a strong pick.)
Photo: Michael Jarecki
After slipping past blue-hairs taking a last gawk at the theater's intimate thrust stage, stop into nearby Riva Café for an order of hummus. Then tour the free Smith Museum of Stained Glass Windows as you walk east through Festival Hall toward The Point near the pier's far end. Faux-redwood couches and chairs provide vinyl-cushioned outdoor seating there. Maybe because it's too arduous a trek for most tourists, spots were plentiful even on a beautiful Memorial Day weekend afternoon.
Fair warning: Drinks served at The Point's liquor kiosk and the nearby Navy Pier Beer Garden aren't great (pass on the garden's "chardonney" and make sure you stir that mojito well before tasting), but there's Goose Island 312 and Honker's Ale on draft—and the $20 credit-card minimum provides an excuse for you and that special someone to grab a cup for each hand. Pound the first, sip the second, then settle in to watch Tall Ship Windy's sails unfurl as it heads into open blue waters.
Now that's something to write home about.