Poetry's Centennial
The 100-year-old magazine celebrates with the anthology The Open Door.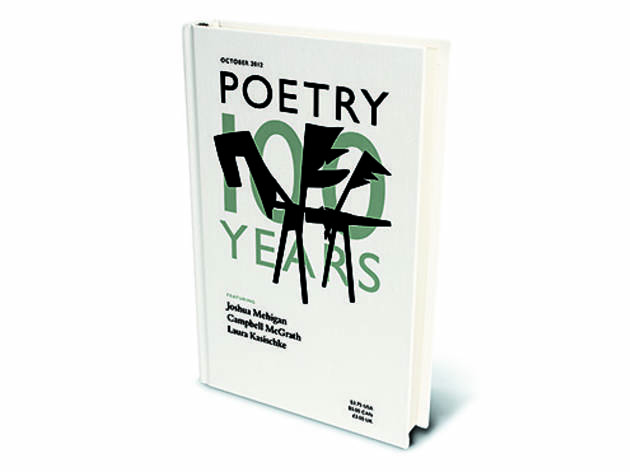 Inside the Poetry Foundation's year-old home, a bright, modernist building in River North, remnants of the past are everywhere. On the walls hang framed black-and-white photographs of famous poets: T.S. Eliot, Amy Lowell, Kenneth Rexroth. On shelves sit plastic-sleeved back issues of Poetry, the oldest monthly devoted to verse in the English-speaking world. The first issue of the magazine, founded by Tribune art critic Harriet Monroe, appeared in October 1912. Two years later, Monroe published what would become the city's most famous poem, "Chicago" by Carl Sandburg.
"The history's really a big deal. We're aware of it because we have to live up to it," says Don Share, the magazine's senior editor, whose office walls are home to more poet portraits. "That's why I have Ezra Pound staring at me, giving me a funny look."
When it came time to celebrate Poetry's centennial, Share and editor Christian Wiman decided to compile a new anthology, The Open Door (University of Chicago Press, $20), featuring 100 poems from the magazine's 100 years. For a couple of months, the two editors read almost nothing but Poetry poems. "Day after day, night after night, in all our waking hours," Share recently recalls while poring through the mag's archives. "I can't think of any reason why anyone has read so many poems in such a short period of time."
The Open Door is not a greatest-hits collection but rather an idiosyncratic mix of famous poems that still feel fresh—Pound's "In a Station of the Metro," that staple of high-school English class—and poems plucked from obscurity, such as Tom Disch's "The Prisoners of War." The latter was published in 1972, in an anti–Vietnam War issue with a bold, all-black cover, yet it feels eerily 21st century in its use of the word terror.
Poetry often seemed ahead of its time. Before it landed in nearly every poetry anthology, Eliot's "The Love Song of J. Alfred Prufrock" appeared in the June 1915 issue, tucked among flowery formal verse. Pound, then the magazine's foreign correspondent, had sent it to Monroe, urging her to publish the then-unknown 26-year-old: "He has actually trained himself AND modernized himself ON HIS OWN," Pound wrote. "The rest of the promising young have done one or the other but never both. Most of the swine have done neither." For years afterward, Poetry received mail from readers complaining about "Prufrock." Critic Louis Untermeyer said, "The effect was that of the Muse in a psychopathic ward." (Oh, snap!)
For the now legendary "Objectivist" issue published in February 1931, guest editor Louis Zukofsky tapped some young, weirdo poets with a penchant for experimentation. "They didn't call themselves 'the Objectivists,' " Share says. "But Harriet was a very shrewd person, and she thought, If there's a name for this group, it will catch on." The issue makes way for modern experimental poetry, with Zukofsky's strange line breaks and a lack of rhyming that, at the time, was revolutionary. "I'm very fond of this issue because it creates this freedom to do weird things and explore how language works," Share says.
He's also enthusiastic about the July/August 2009 issue that includes a feature on flarf—poetry crafted from Internet searches—and conceptual writing. "Wherever I go, people still complain or yell at me about it," he says with a laugh. "It's like 'Prufrock' all over again."
Poetry's Centennial Celebration and The Open Door release party are October 4. Visit poetryfoundation.org for R.S.V.P. details.